Join Date: Jul 2014
Location: Northern VA
Posts: 60
Dimarzio (Blaze) Experts: Qs on Kent Armstrong "reworked" pickups?
---
I'll put this here since it's about UV Blaze pickups, but if this belongs somewhere else, sorry!
I pickup an H-S-H set of green bobbin, brass bottom Blaze pickups as part of a deal. I was told they came out of an old Universe, which seems right. Dunno where else they would have come from, and they came with a Cosmo Chrome Lo Pro Edge 7, so this seems right. The seller said that the bridge pickup was amazing/killer/etc. etc. but I just thought "whatever, it's a Blaze." Turns out all of the pickups have a sticker like this on the bottom:
I Googled for info on Kent Armstrong reworks/reworked, but can't find anything. Anyone have any info? Unfortunately I haven't installed these in a guitar yet. I don't have anywhere for them to go at the moment... I don't have any resistances measurements either, unfortunately. They're still installed in a junker parts guitar for now.
EDIT: Curiosity got the better of me, and I just pulled them out.
Blaze Neck: 16.20 kohms (stock claims 15.
Blaze Middle: 12.00 kohms (stock claims 13.46)
Blaze Bridge: 17.86 kohms (stock claims 20.75)
Next question. I pulled this out of an Aria Pro STG-7 string. It LOOKS so much like a Blaze neck, down to the patent sticker and the N1 marking (it came with black poles, but this pick was half-way through replacing those with chrome poles). But no Dimarzio logo on the baseplate. Any ideas? It measures ~16 k ohms resistance, which is pretty close to what a Blaze Neck would be. I set it side-by-side with another Blaze neck, and the coils are the same thickness/height.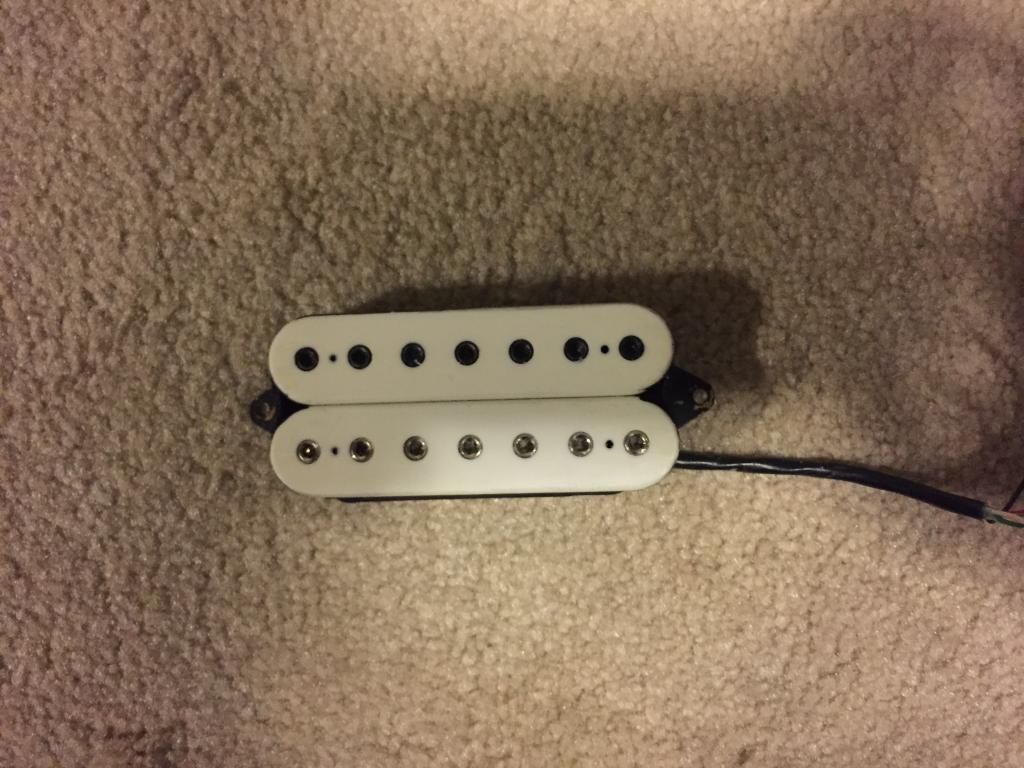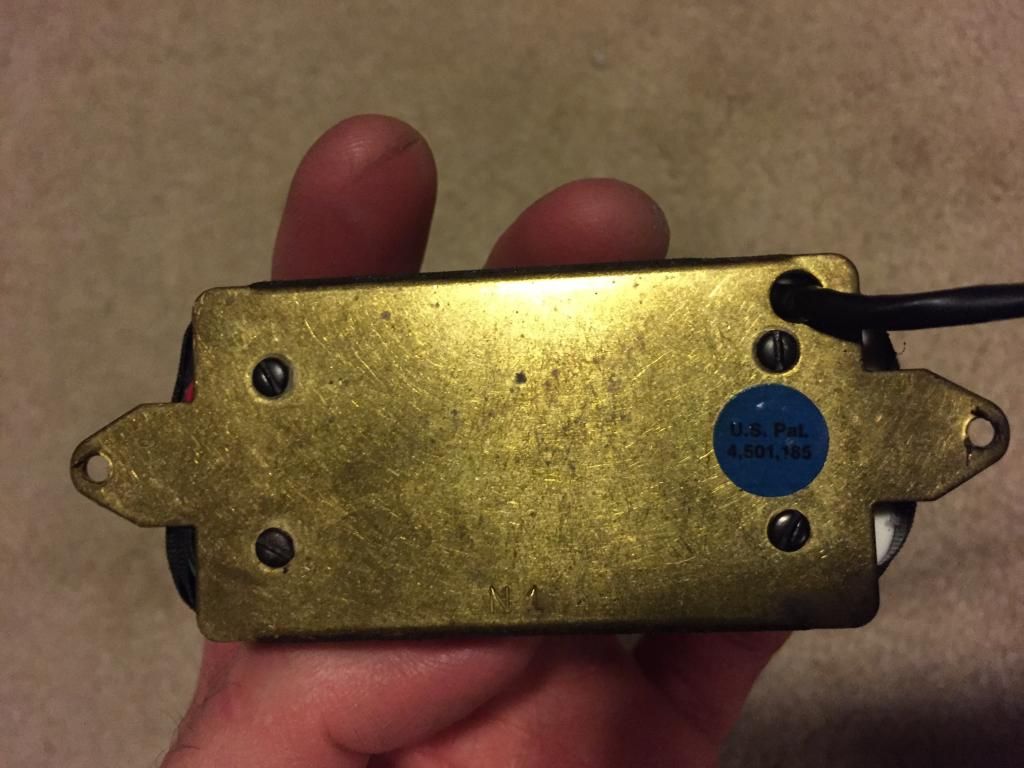 Any info would be appreciated! Basically just curious about these pickups.
---
Last edited by cardinal; 02-09-2015 at

12:17 AM

.
Join Date: Jul 2014
Location: Northern VA
Posts: 60
Re: Dimarzio (Blaze) Experts: Qs on Kent Armstrong "reworked" pickups?
---
Alright pickup nerds. Kent Armstrong explained some of the markings. The Blazes were rewound with .05 gauge wire (44 AWG?) to a specific number of kilo turns. Based on the stickers, the Bridge was wound to 6,500 turns; the middle to 7,500 turns; and the neck to 6,000 turns.

The Dimarzio website says the Blaze neck and bridge are covered by patent no. 4,501,185, which is for humbuckers with coils wound with different gauge wire. So I guess Kent Armstrong undid that.