Join Date: Nov 2007
Location: Red Deer
Posts: 62
A cool FRANKENSTRAT with a cool story...
---
Hey guy's & gal's. I want to share a really cool guitar with you. The story may even surpass it.
I recently made a deal with a guy in Edmonton that I couldn't pass up.
I traded one of my Ibanez's for this beauty. It's a Riverhead model by a Japanese company called Headway. This is a Frankenstrat clone of Eddie's 1984 Kramer. The guitar is very unique. It was made in 1985 and it's serial number shows it's the 15th one made. It cost $1100 in 1985. The guy I got it off of was the original owner. Anyway here's how he got it...
One day at work in 1985 Bernard (the former owner) was at work reading the paper. As he was flipping and browsing through, a certain picture caught his eye. It was a model on the front page of the fashion pull-out pretending to play Eddie's Frankenstrat. What was interesting is it seemed to him to be a locally written article. Upon closer examination he was right.
The footnote below the picture said 'Guitar from Long & McQuade'. Well for those who don't know, Long & McQuade music is one of Edmonton's most popular music shops. Well guess what Bernard had to do? He had to go and see if it was still there. Well, he immediately left work at the end of his shift and went straight to the store, and low and behold it was hanging on the wall. He played with it a bit and couldn't resist. He forked over the 1100 bucks.
While Bernard had several guitars, over 25 at one point, he told me this was always his main player. However he found that the last few years it wasn't being played as much so he thought it was time to move on so we struck a deal.
A few things I can tell you about the guitar are:
It has an exact copy of a Floyd Rose. It just doesn't have any engraving on it. Bernard attached a 1971 American quarter beside the bridge. It cost him 8 bucks for that bad boy. Apparently it was hard to find.
The guitar is in great shape. The fret board has that vintage look from wear but the frets are all fine. It also has a D-tuna but it doesn't exactly fit great just because the the closeness of the bridge to the body. As for the paint... it's all good. Only the white paint has faded to an off-white.
The company Headway is still around today. They make high end acoustic guitars. The Headway luthiers in 1981 started making electric guitars but in 1985, I believe, the factory burned down and they never did go back into electrics. I included a link below to tell you about more of the history of the Headway and it's affiliated companies.
I don't know how long I'll keep the guitar but I would have to have my socks knocked off to part with it.
Here's a link to some info on Headway and it's affiliated companies:
http://www.japanvintageguitars.com/B...20History.html
This is a pick of Eddies 1984 Kramer which my guitar is cloned after: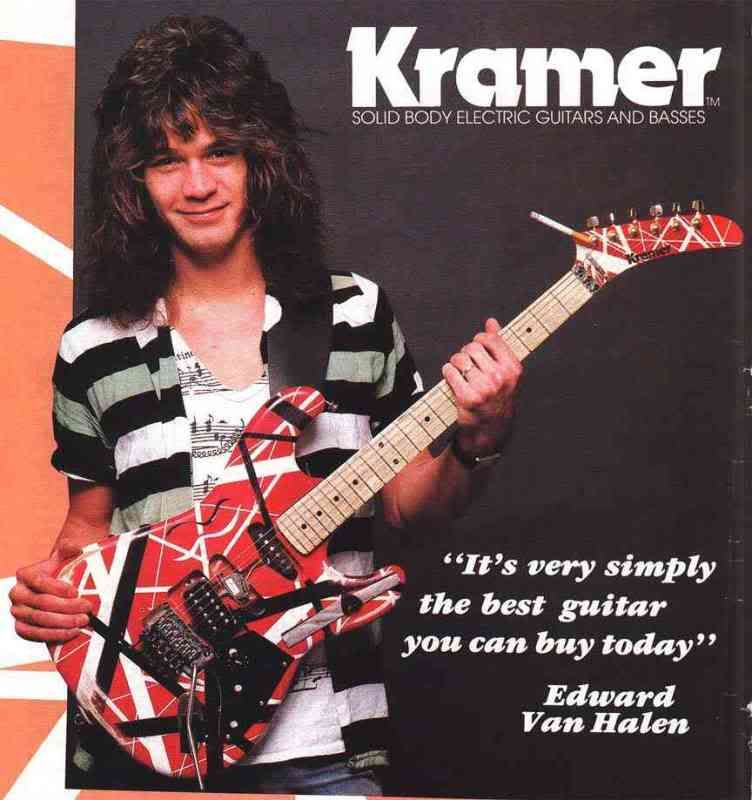 This is a pic of my Headway Frankenstrat: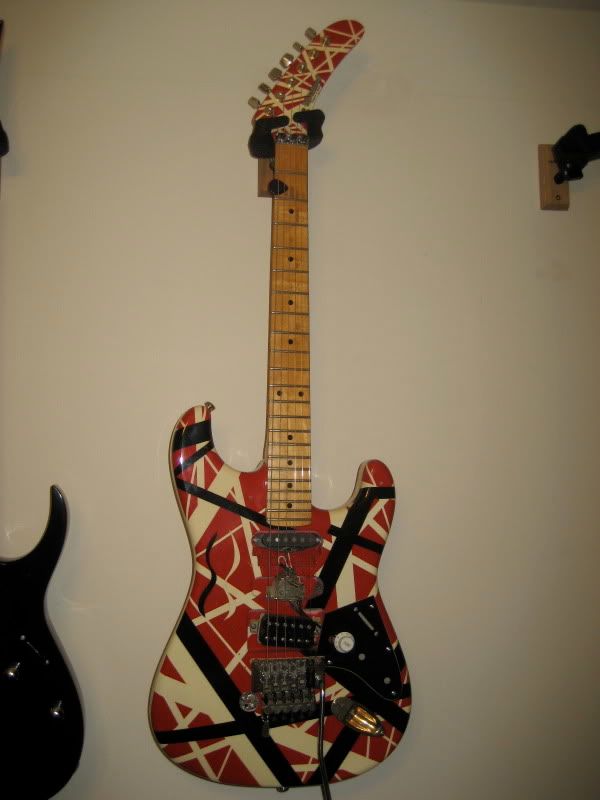 This is the actual Newspaper ad: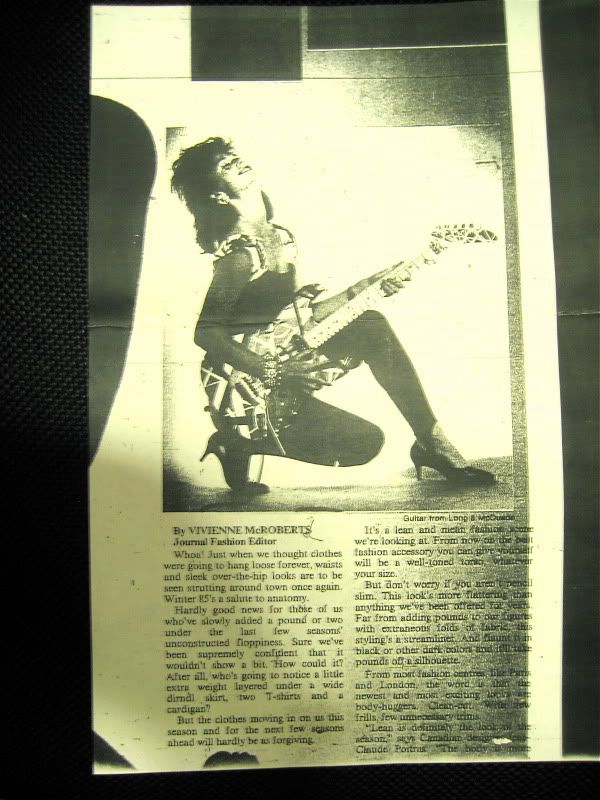 Join Date: Nov 2009
Location: TN
Posts: 589
Re: A cool FRANKENSTRAT with a cool story...
---
pretty cool story and guitar.
Join Date: Mar 2009
Location: UK/Ireland
Posts: 3,525
Re: A cool FRANKENSTRAT with a cool story...
---
Interesting stuff and a very cool guitar indeed. It's nice to have something that little bit unusual in your collection. Congtraz!!!
Similar Threads
Thread
Thread Starter
Forum
Replies
Last Post
This is cool

mrjakob69

All Other Guitars (including Prestige)

0

09-20-2008

11:42 PM

Now This Is Cool......

jemaholic

Players & Bands, Music & Sounds, Tours & Jams, Lessons & Theory!

1

04-16-2008

11:41 AM

Cool Ibanez story on NPR Radio

Tonelover

All Other Guitars (including Prestige)

8

02-11-2007

02:18 PM

This guy is cool!

Lewis

Players & Bands, Music & Sounds, Tours & Jams, Lessons & Theory!

4

11-20-2006

05:30 PM

Cool#9 's tab ?

necromonicon

Players & Bands, Music & Sounds, Tours & Jams, Lessons & Theory!

7

11-29-2002

03:22 PM