Join Date: Jul 2004
Location: georgia
Posts: 41
My RG470AH project
---
I've wanted a RG since I was 13 years old, consequently after listening to Vai for the first time. For some reason, it just never happened and then I started spending all my money on fast cars and motorcycles. My MIJ strat's frets have been pretty bad for years and became flat out unplayable. So about a year ago, I finally went out and got myself an RG. I tried the RG470AH and it had the perfect feel and sound. The natural finish made it seem to breathe and resonate more. A true strat lover can't resist swamp ash either. I found one in particular at a local shop that had a much smoother and darker fretboard than others I had seen, so I took it home. And so, a year of wishing I just bought a prestige began.
The guitar sounded great, I quickly grew to love the neck but it played like crap. I figured it would need a set up, but a set up wasn't going to cover it. So I took it back, and pointed some high frets out to their luthier and told him to do whatever it needed. A month later he returned it with new strings and higher action than I gave it to him with. I payed for the strings and that was that.
So, I got my hands dirty.
-Issue 1. The locking nut wasn't centered and with no shims sat WAY too tall. I put the nut to a bench grinder and got frustrated. The difference between a perfect nut and a useless one is absolutely tiny. Also, the V shaped grooves for the strings are very hard to file. I locked my trem anyway, so I installed a ibanez RG471 fixed nut. Shaped it up, and plays perfect. A graphtech will soon take it's place.
And here is my DIY ghetto trem block.
-Issue 2. The frets were not very level. It had very high frets between frets 14-19 that were obvious. I'd soon find out, they were all pretty bad. I suspect this to be an issue with fretboard prep before fretting. So now the daunting task of fretwork. I had my machinist buddy mill me a couple steel level blocks. These were very large chunks of steel, machined within a thousandth of an inch level and then surfaced. They're about as straight and flat as it gets. You can not force any "bow" in the sanding face. Also, they have so much weight, you simply slide them up and down the frets with no pressure downward. Because of this, the amount of material you remove is more consistent.
From stew mac, I bought the small 16" wooden radius block and fret crowning file. I also bought their finishing sandpaper kit, which includes 9 grits ranging from 1,500-12,000.
Frets levelled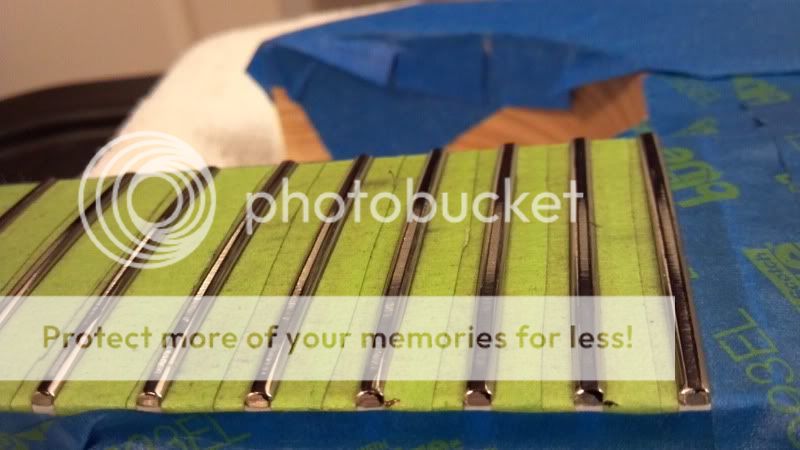 I've always heard mixed opinions on using radius blocks, some people swear to use it everytime. Others act like leveling should be enough. Here you can see how much sharpie remained on the leveled frets after the first few passes with the radius block.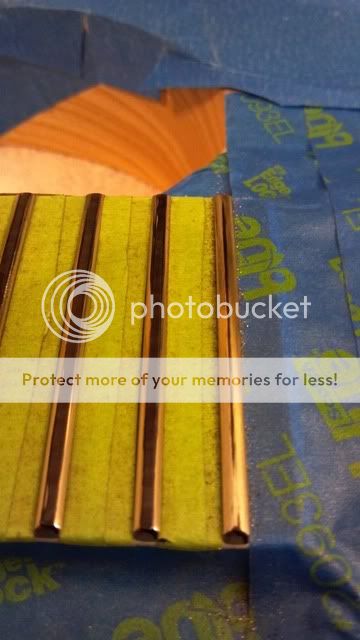 Crowning the frets. Very important to leave just a thin strip of sharpie to keep them level.
After finish sanding. The finish sanding kit worked amazing. Far better than steel wool and buffing/polishing. I used no polishing compounds or buffling wheels and they are a perfect mirror finish.
Now the guitar is set up with 1/32" action on the high E and 3/64" on the low E @ 24th fret with reg. slinkys. It stays consistent down the entire fretboard with just the tiniest amount of relief in the neck. I also used brass shims to pin the neck to the bass side of the neck pocket. That definitely stiffened the neck up and I can feel the neck resonate with the body more. The last little step was to add brass shims under the B and G string saddles to even out the radius and action. It really turned out better than I expected. The action is low but it plays so clearly. Notes ring all the way up the fretboard. The frets are so smooth they bend for days. It's truly the nicest playing guitar I've ever played, among countless Music Man's, Suhrs, Andersons, and G&L's.