Join Date: Jul 2006
Posts: 2
need help with S470 ZR Trem - loose screw
---
Hi all, hoping someone could give me advice about the ZR tremolo.
I have a S470, bought new late 2004 that doesn't hold tune properly anymore. What happens is the E, B, G strings hold their tune fine but right after using the trem bar, the D, A & E strings go slightly flat. I took the trem apart and discovered that the mounting screw right next to the trem bar (see pic) is pretty wobbly.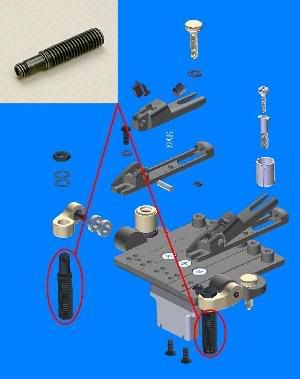 This used to be strung with 9-42 gauge up until 3 months ago when I had 10s put in. Maybe changing to a higher gauge must have worn out the threads cos of the added tension. My question is can I just wrap some teflon tape that plumbers use around the screw so it fits snugly again? Is this a good idea or should I just order a new screw from ibanez?
Oh yea, almost forgot...could adjusting the action height while the guitar was fully tuned up and tensioned have contributed to this problem?
Thanks
Join Date: Apr 2006
Posts: 39
Re: need help with S470 ZR Trem - loose screw
---
Try pulling them out and see if the threads are stripped down. that's more than likely the culprit and if so, should be a cheap replacement. Teflon tape won't offer the tightness that a brand new mounting stud would.