Join Date: Feb 2006
Location: Moncton, NB, Canada
Posts: 788
NGD Carvin/Ibanez S Hybrid
---
So I finally have this project pretty much completed. It is my attempt at a "strat" sounding guitar, 22 frets with H-S-S config. So far, it looks quite versitile and definately is the best playing guitar I've ever owned.
So behold.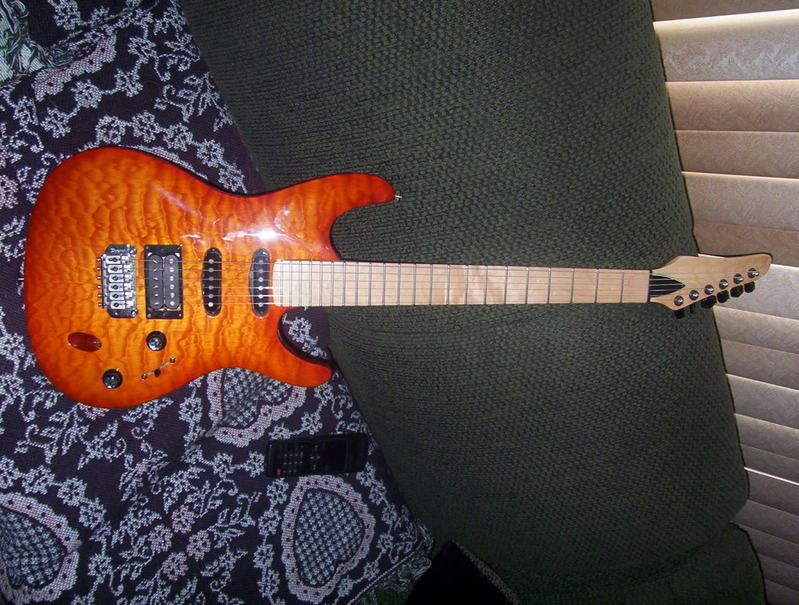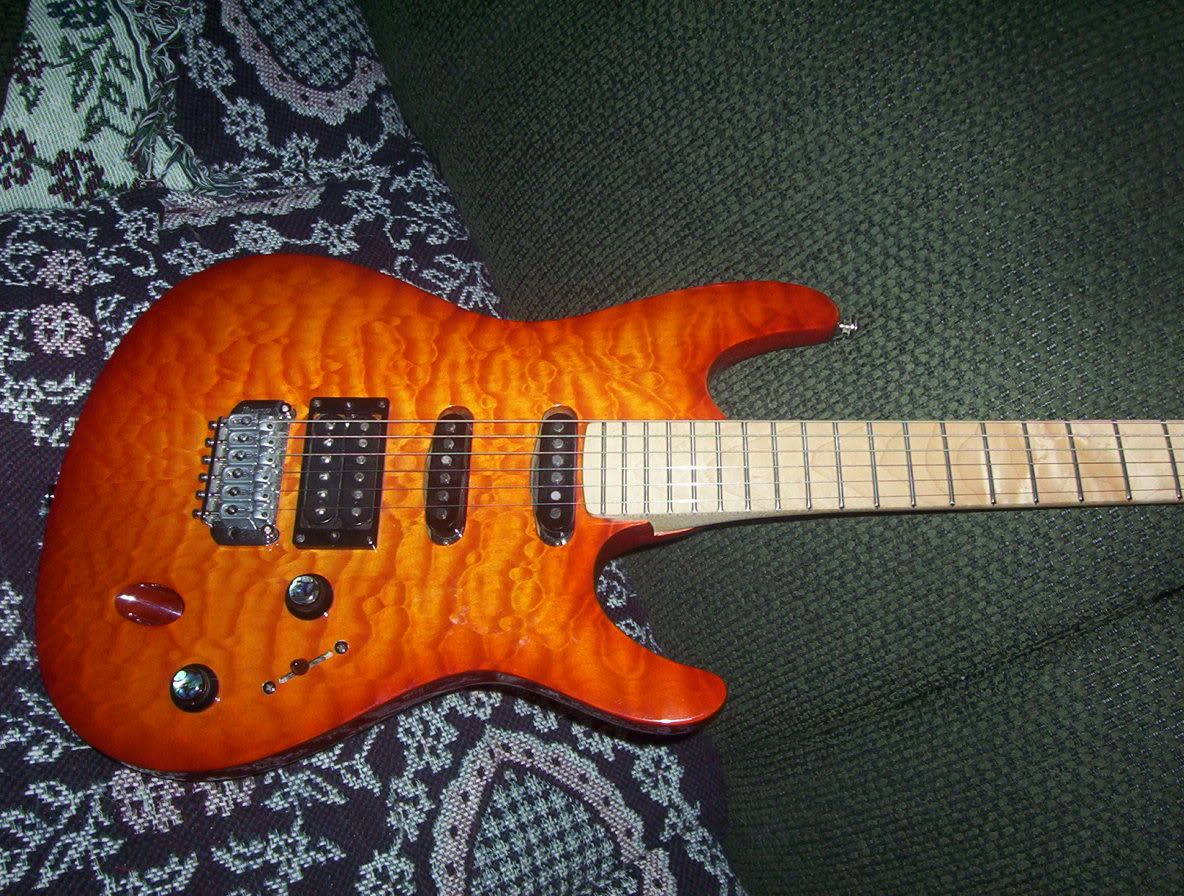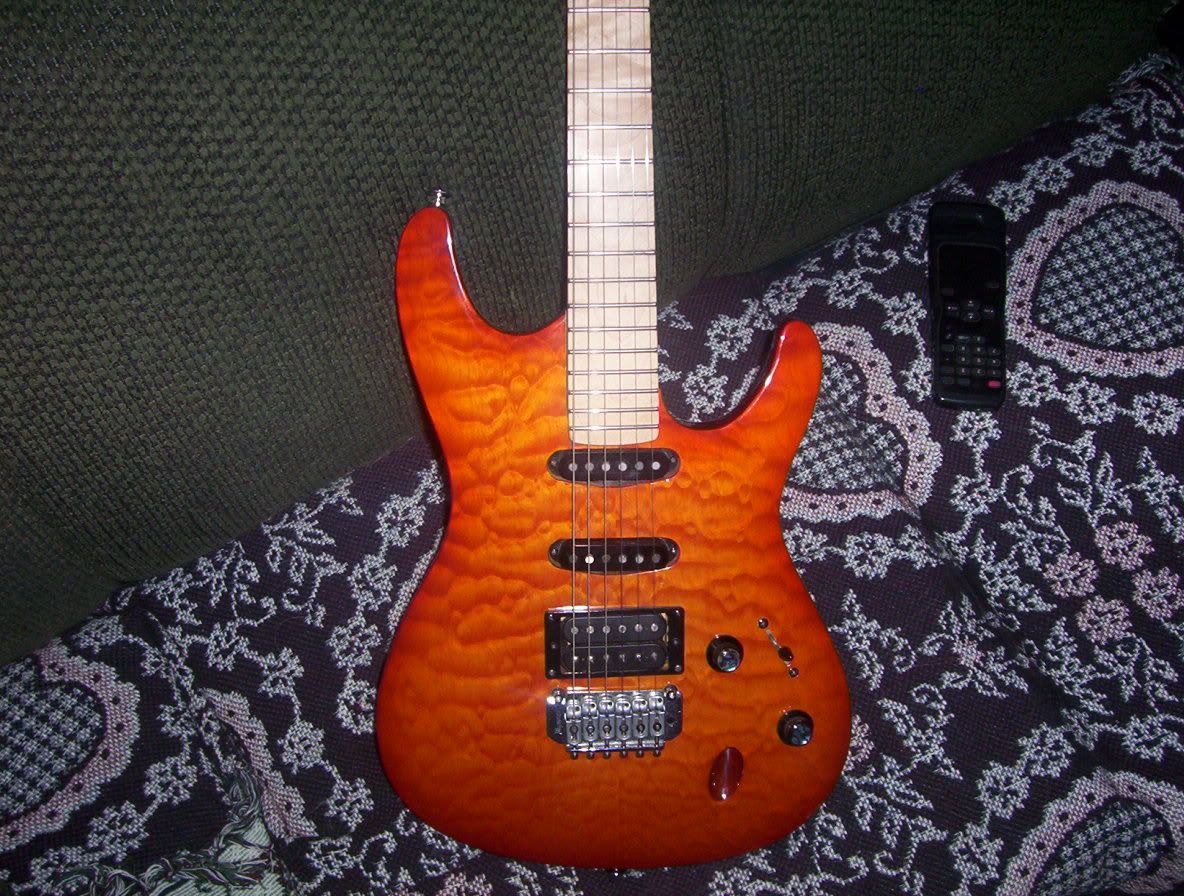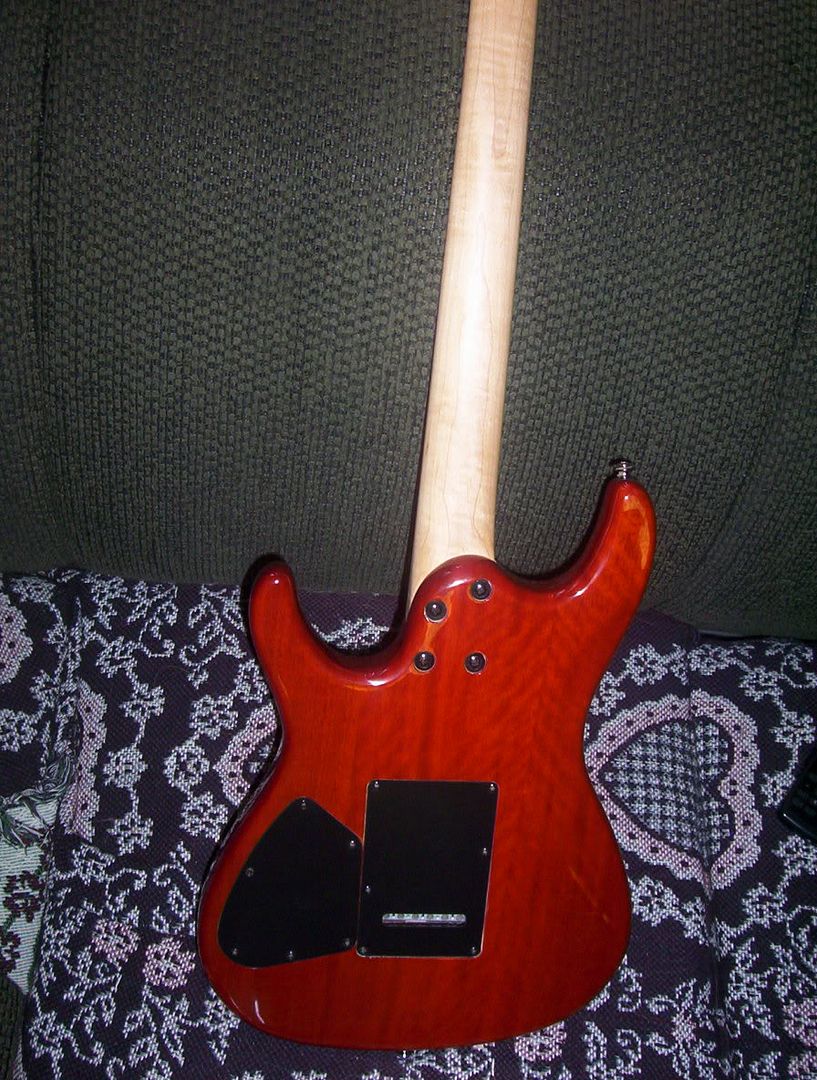 ---
I love how much figure is in this, and for such a low cost! The Carvin neck, is the perfect shape, and I just love it. The neck has Stainless steel frets, and Sperzels, and came to around $350 in total, including shipping to Canada.
The body is from an ibanez SA160QM, and the bridge is alright from it. It has an AANJ.
Adam (Elysian on ss.org and here) helped me out by putting it all together and stuff for me, Its very possible I probably could of did it myself, but I wanted a pro to make sure to transform the Carvin normal-bolt style into the AANJ pocket. He also sanded the fretboard edges more, as the shipping between Carvin to me in Canada and then back down to Texas with no tung oil finish yet, took a small toll. Now its perfect though. And this S body is SO awesome and comfortable, I wonder why I have these bulky RGs kinda now. It has a mahogany body, which even though im not a huge fan of, It should be fine.
Pickups are Dimarzio Tonezone in bridge, a fender USA single in the middle, and a Yngwie J Malmsteen in the neck. That hopefully can cover a wide array of styles, and so far it does sound pretty neat, but I dont have my Pod here to test it out. So far so good though.
So I wanted to put this here to show some of what Elysian can do, even though its hard to see the AANJ carve on the neck, but it feels amazing! Best feeling AANJ I've ever owned, and Im looking forward to the new neck he is making for me for my next project.
So. If Carvin has the options to do what you want, I highly recommend them, but if they dont have the options, call up Adam, and he'll get it done.
Re: NGD Carvin/Ibanez S Hybrid
---
Damn, that looks pretty sweet!

Nice job.
Join Date: Feb 2006
Location: Moncton, NB, Canada
Posts: 788
Re: NGD Carvin/Ibanez S Hybrid
---
This guitar is so awesome, I love it so much it needs a bump.

Ill have new pics soon, with new pickups and a Carvin logo hopefully.
Join Date: Jan 2008
Location: Burton, England.
Posts: 242
Re: NGD Carvin/Ibanez S Hybrid
---
That guitar is sooo hot! :P
I have an S and a Carvin myself (separately though
) and I must say, that's a worth while idea!
Join Date: Feb 2009
Location: ATL, Ga
Posts: 103
Re: NGD Carvin/Ibanez S Hybrid
---
yeah very nice.. actually kind of reminds me of Dave Weiners 7 stringe Prestige a bit.. the colors and what not..