Join Date: Jan 2009
Location: Canadian in Cambridge, MA
Posts: 479
Quilt Top S build - massive custom
---
Hey,
It's hard to 'try' an S, as none of the local shops had one in stock, cause they're popular. So I decided I'd try to build one for 200 or less. I'm going for maximum weight reduction, and I'm going to try a blade-runner style tremolo:
the body, with a big chip in it, maybe 45 from ebay?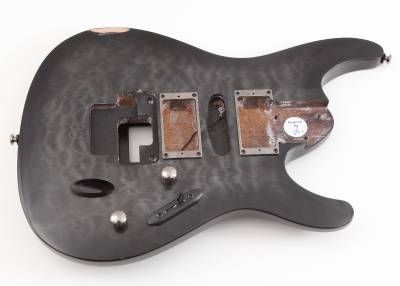 I got a RG321 neck for around 95, but had to plug and redrill it to make it fit. It's going to look good. And man those S bodies are light. Mine tipped the scales at around 2lb 13oz. I had to route like a maniac to get my walnut topped bodies down that low.
test shot: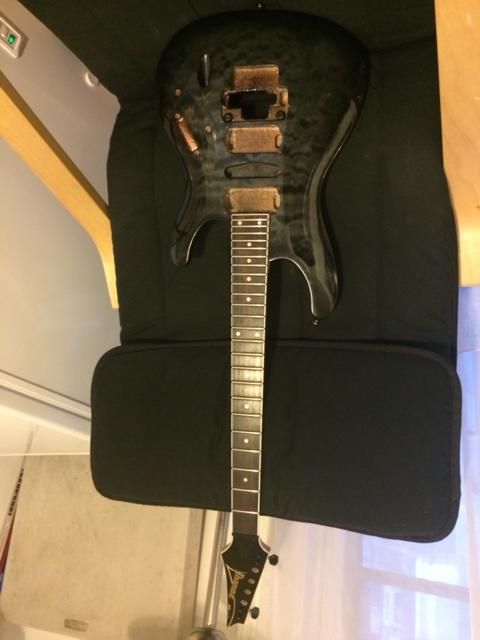 All built with the custom trem:
close up of my blade-runner knock off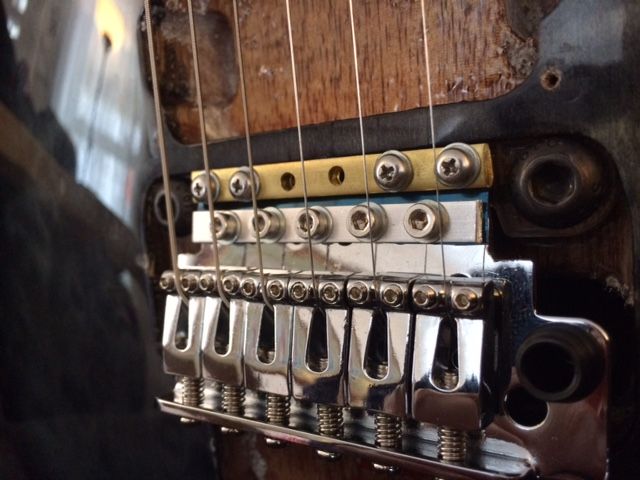 I got a squier trem, and modified it to receive a piece of spring steel. I didn't get a bar, so I had to drill out the base and add an aftermarket floyd arm.
MAN the silky trem operation. It's really nice, and WOW the sustain. I'm not used to the whammy bar vibrating when a string is struck, but it does on this one. Unfortunately, during a large pull up (a 5th
, the spring buckled and clear broke off. I'll have to iterate on the thickness and width of that little spring. My initial impression is that super-vee chose a very nice design by removing any friction filled pivots with a huge contact area on a piece of solid steel.
I'm also trying gotoh stealth tuners, as they weigh around 2.5ounces per set. This makes the guitar almost feel headless.
More to follow, but I just thought I'd share my recent progress. S bodies are SO comfortable!
Join Date: Jan 2009
Location: Canadian in Cambridge, MA
Posts: 479
Re: Quilt Top S build - massive custom
---
yeah dorian's looks better with all that classy gold hardware and custom carved switch holder