Join Date: Dec 2005
Location: Pittsburgh, PA
Posts: 675
NGD: H&K Access and VS-250
---
In a blast from the past I picked up the classic (and rare) Hughes and Kettner rack rig of yester-year, the Access preamp and matching VS-250 power amp.
The Access is a very rare preamp, and I was happy to be able to pick one up in good condition. The Access came with two different sound modules, A and B. The one I picked up has version 2.01 of the more desirable B sound module.
The Access has 3 channels: Clean, Tube 1 ("Crunch"), and Tube 2 ("Lead"). The Clean channel is clear and chimey and simply will not break up, period. Tube 1 can go from a nice rich clean up to JCM800 gain levels, and does fantastic in-between just breaking up tones. Tube 2 is just thick, mean, rip your face off gain. Add to that one of the coolest interfaces ever and three programmable effects loops. I love this thing. I even got a nice jazzy clean dialed in on Tube 1.
The VS-250 is a pretty unique power amp, and is even rarer than the Access it was made to pair with. It's 2 50 watt channels, driven by 4 EL84s each. Each channel has 2 presence modes and each channel can run in Pentode or Triode mode. Triode mode drops the power to 25w per channel.
Now on to the pics (I even took a gut shot of the Access for those that are in to that stuff
)
Front photos, I'll get these racked up as soon as I grab some kind of effects processor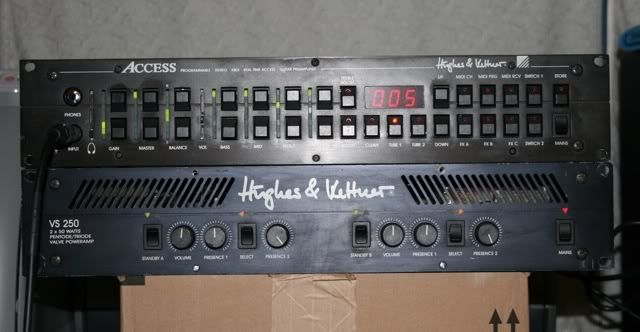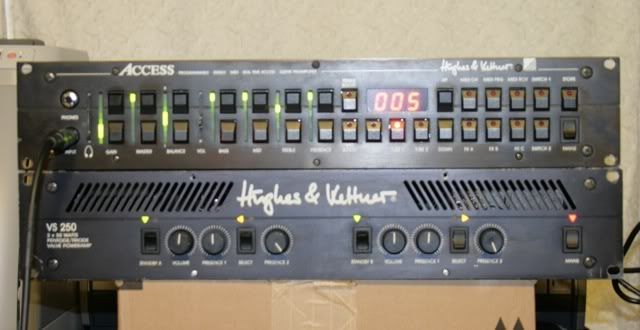 Access top
VS-250 top
Access Gut Shot
Join Date: Sep 2019
Posts: 1
Re: NGD: H&K Access and VS-250
---
Don't know if you still come here but I could use some help with my H&K Access (Ver2.01)

I'm using an Art X11 MIDI foot pedal to change programs via MIDI and no matter what I do I can not get the Access to change to any other patch other then the number of the foot pedal button I press.

If I could start at preset 1 and press Bank 1 - #1 and be able to press bank 1 - #2 and only change the processor presets in their respective loops (A,B,C) and leave the Access at preset 1, life would be grand. Can not figure out how to do this. Read the manual cover to cover many times and I don't see how I can do this unless I am missing something in the MIDI set up.

I don't see how why the patch number I select when setting program # as you would on any other device connected to the Access has no effect. Baffled.