Join Date: Jan 2001
Location: Florida
Posts: 450
1 Set Gravity Storms, 2 guitars, which gets new pups?
---
I purchased a set of Gravity Storm pickups with an HS3 single coil for the middle position, intended for an S540LTD. That guitar arrived this morning (I haven't seen it yet) and a tech is going over it as we speak.
My other ibby, an S5470, is also a possible recipient of the pickups. I like the neck pickup, especially with the tone rolled down, and the bridge is ok, not overwhelmed by it. Middle is meh, it's there. Maybe I'm just not a single coil guy or I haven't tweaked my settings enough. I can see myself getting it to work as is but they did update it in 2010. I've heard good things about the neck GS pickups.
I do have the sustain issue on my 5470. It's only on the G string, 15th fret (worst) through 17th but everywhere else, seems to be ok. Other strings are just fine. Now I have a few other things up my sleeve including a tungsten sustain block I'm working on. I'm thinking the new pickups may help a bit as well.
The S540 is most likely going to be taken apart and refinished and restored. If the guitar is in decent condition now, I'm going to play it for a week before tearing it apart. It has a stock middle pickup and aftermarket neck and bridge pickups. No idea what they are yet.
If I go with the Gravity Storms in the 540, it'll be a while before they're in there. I like to tinker but sort of promised myself I'd not mod the S5470's pickups for a bit. I can do the wiring myself.
Whichever one gets the Gravity Storms, the other will get something different. I may end up trying the Crunch Lab in the bridge on one of them along with whatever would be best in the middle and neck positions.
I play mostly through an Eleven Rack, studio monitors, although I do have an H&K Tubemeister and a 4x12 half stack that also has a built-in Matrix amp for use with the Eleven Rack. But my tastes are all over the place. The Ibanez are for the more modern, heavier end of things (well south of death metal though) as I have a P90 tele for punk/vintage and a PRS for rock/blues.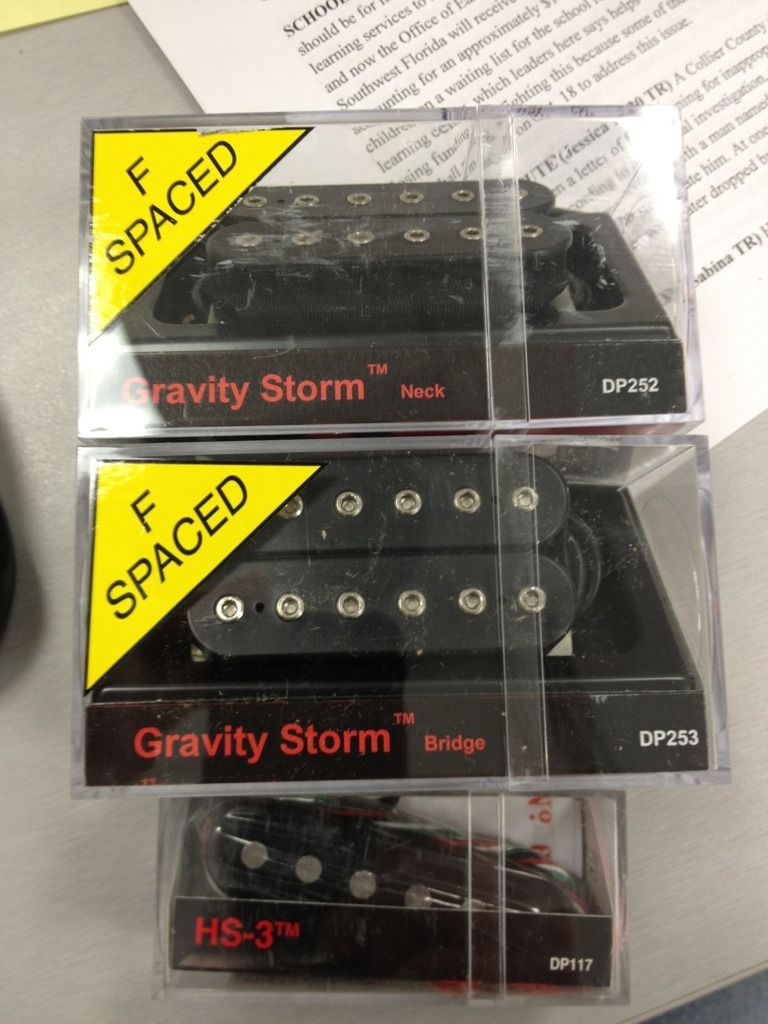 Join Date: Jan 2001
Location: Florida
Posts: 450
Re: 1 Set Gravity Storms, 2 guitars, which gets new pups?
---
S5470 is getting them as we speak. The S540 came in and it's seen better days so I refused it.