This was an unintentional restoration. I was at a local guitar shop when some guy brought this in trying to get a few bucks. He got a few bucks and I got this....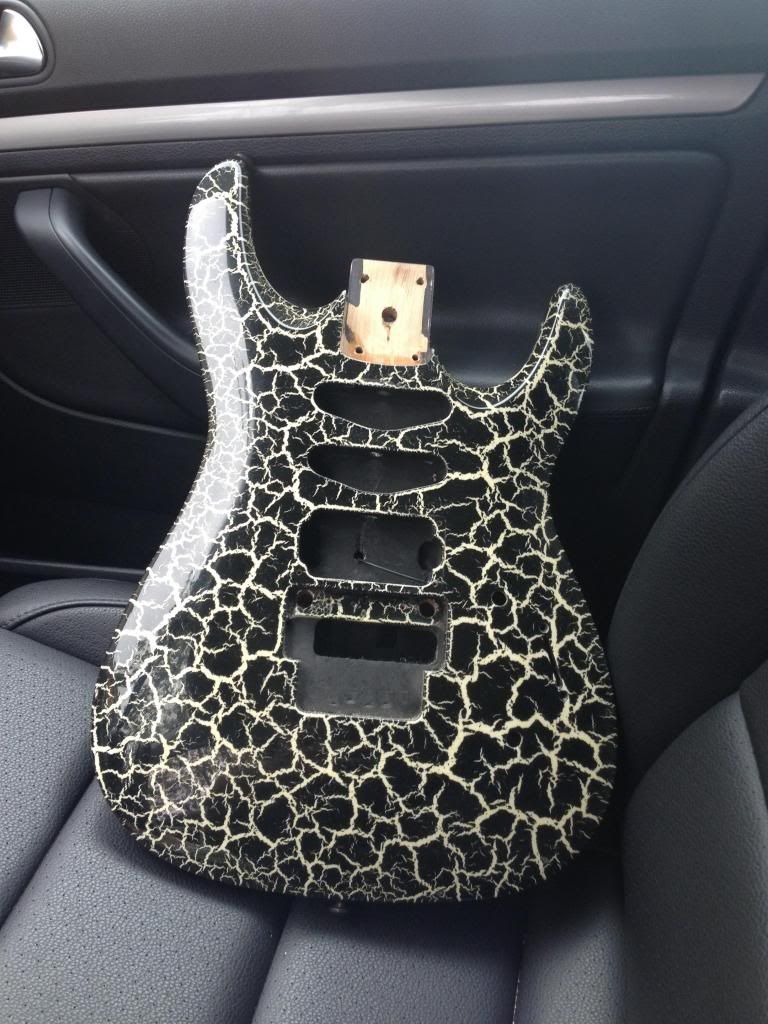 Being a child of the 80's, it was a no-brainer. I grew up on Poison, Van Halen, Quiet Riot, and Motley Crüe and this looked like it fell off a tour bus at a glam metal festival. I didn't really know what it was exactly, but I liked it!
It took a few days of scouring the Internet before I found vintagekramer.com and found the first clues. What tipped me off was a pic on the site of a Nightswan I with the same finish being played by Vivian Campbell. Also, I found the 7/8ths body shape on the Liberty and Stagemaster models. So it's a Kramer. That's about all I'm sure of, since there's no real consistency in Kramers from year to year unfortunately. So, I haven't been able to nail down a solid ID.
ID or no, it needed a neck. Anyone who has looked into replacement parts for vintage Kramers know all about sticker shock. A lot of these cost as much as some stock guitars. Luckily, a friend of mine owns a custom shop and we were able to find a neck that fit and felt right. Found a nice badass inlay shape too! Gotta stay true to the theme.
The only real finishing was the headstock. Just a light sand, primer, and paint to get her nice and shiny.
The biggest pain was finding a good authentic headstock decal. I tried a couple different waterslides from fleabay, but they were all low-quality laser printed crap. I finally came across meanstguitars who do really nice vinyls. A couple hours with an 11-blade scalpel and I was able to trim away the transparent bits and place the decal.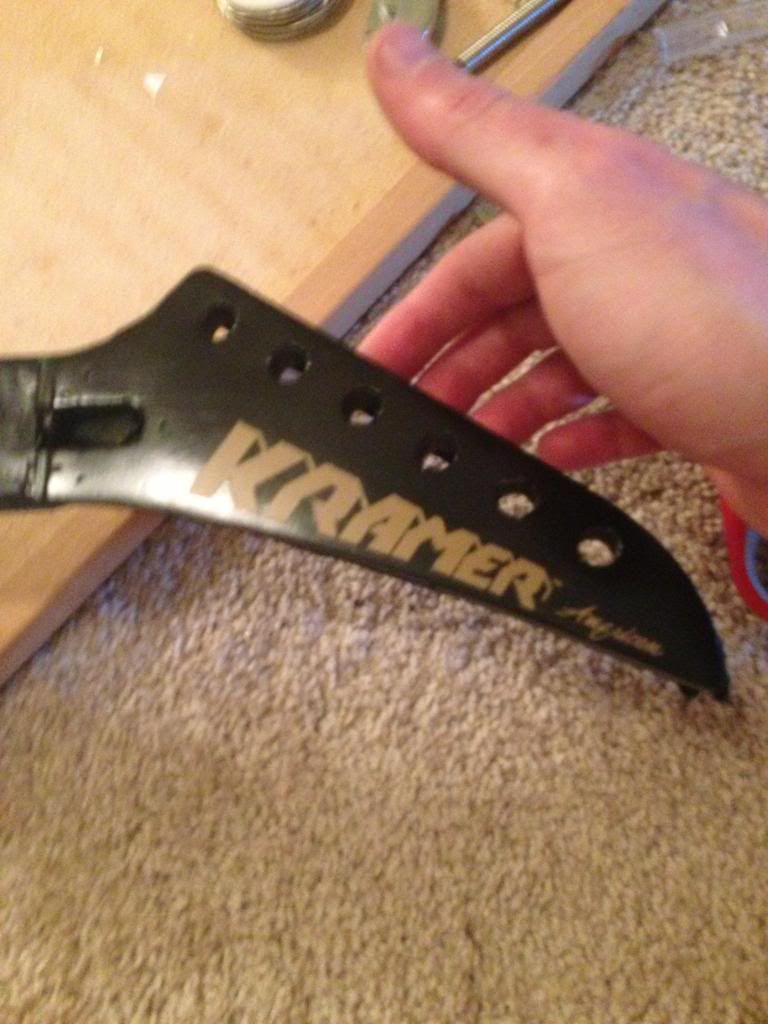 Sexy, no?
I cleared it with ACE hi-gloss poly. The hardest part was waiting between coats and sanding. When it was set, I scuffed it out with 1500 grit and used turtle wax rubbing compound followed by same brand swirl remover to shine her up.
The hardware all came from fleabay and new stuff I had on hand. I set her up with a FRII bridge with a homemade trem-stop with all black hardware minus the chrome bridge.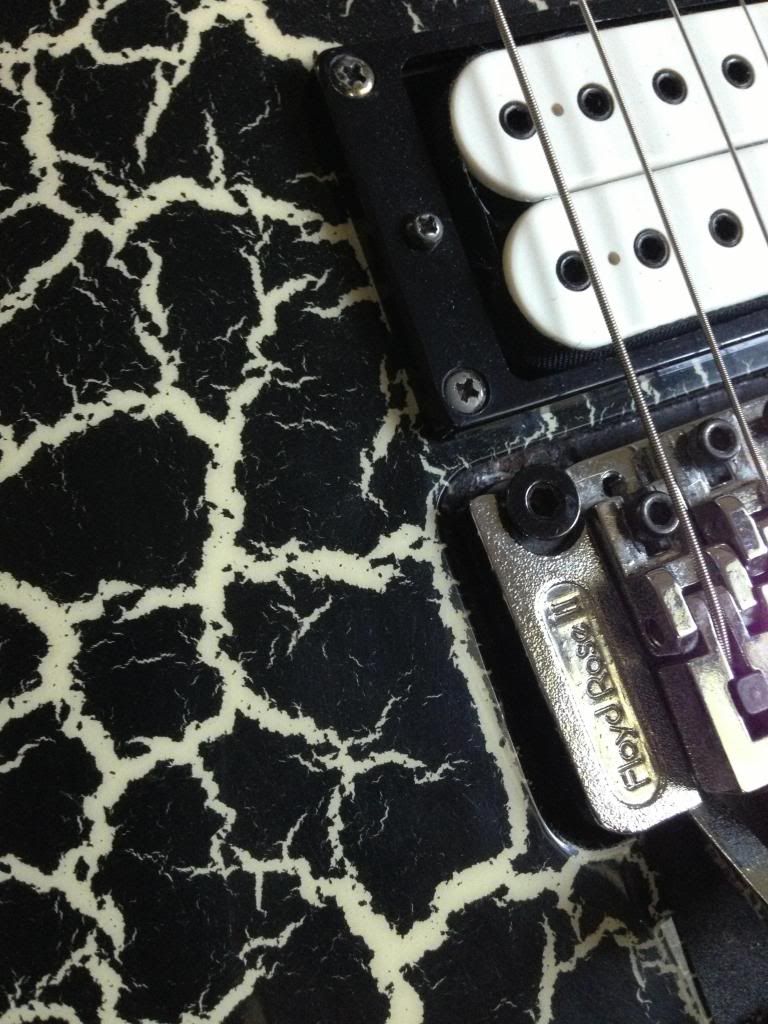 For pickups, I went with 2 stacked fender strat singles. And a Dimarzio Evolution I for the bridge. I was leaning towards the Seymour Duncan JB, or the Dimarzio Super Distortion, but the harmonics from the Evo were too sweet not to use.
Here's a couple final shots....
Here's the neckplate, I used a plastic guard for it, and gave it the black gloss.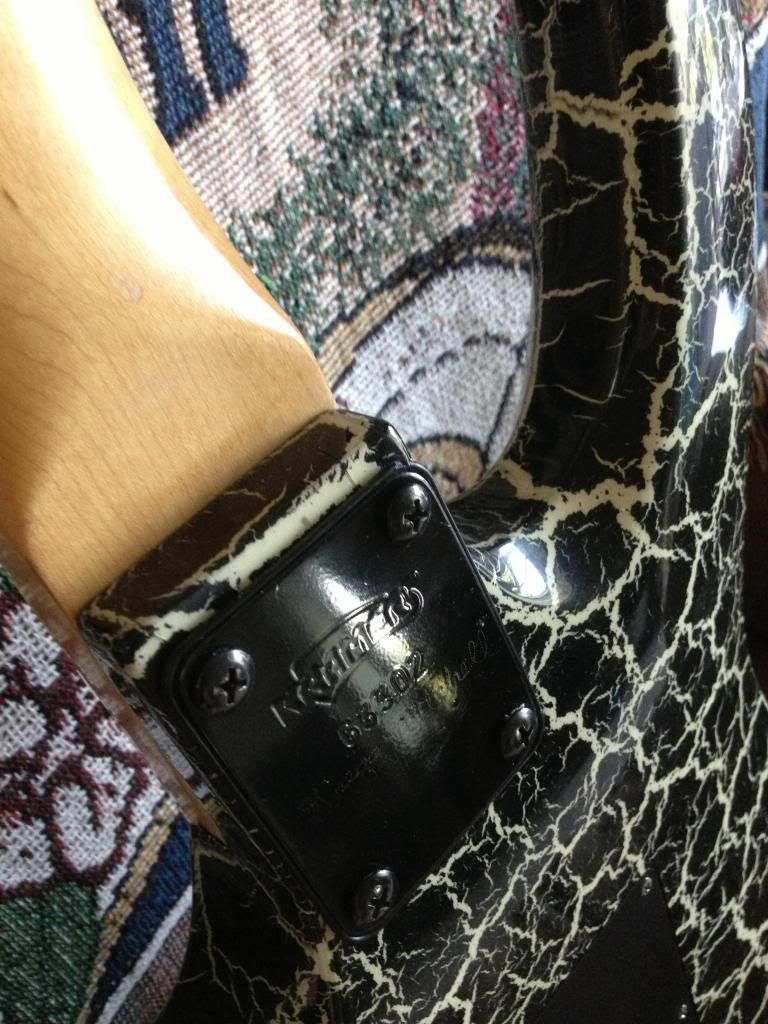 And the nifty trem-tool holder!
All I'm missing is a control cavity cover. None I've come across seem to fit.
It was a labor of love, and she looks great and sounds like a spandex-clad banshee screaming a Cinderella cover! I wish I knew a bit more about it, but I'm happy with how she turned out. I really wasn't expecting this much tone and character out of a god-knows how old guitar body that I literally just bumped into one day.
Thanks for listening to my story!