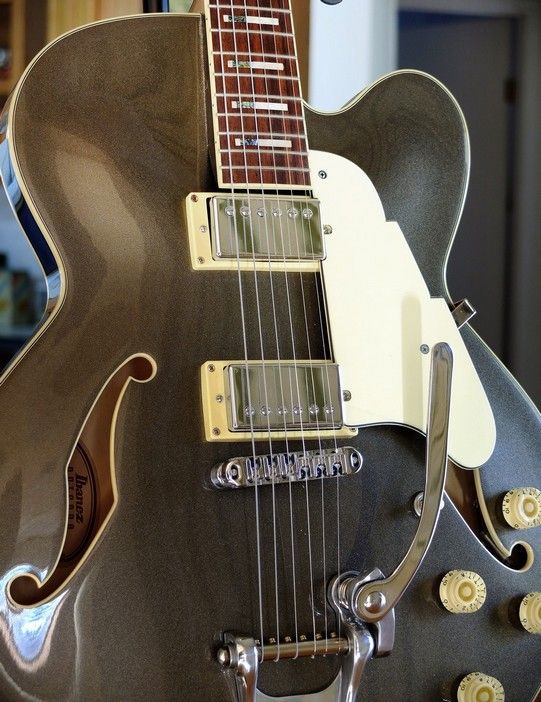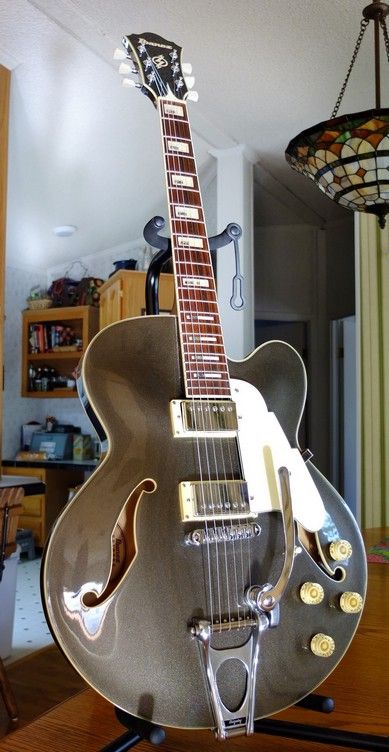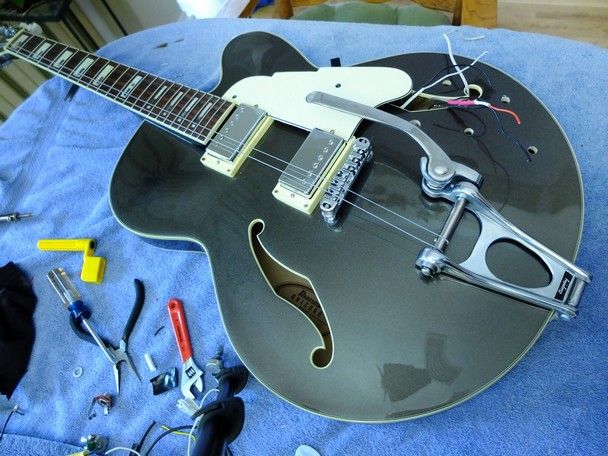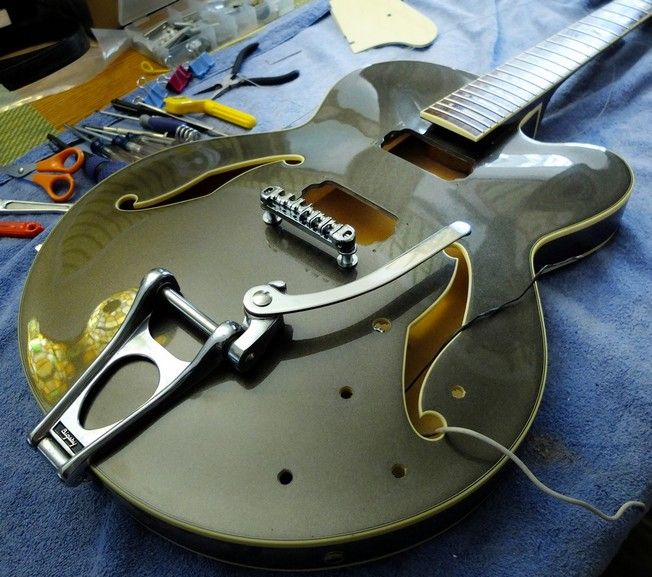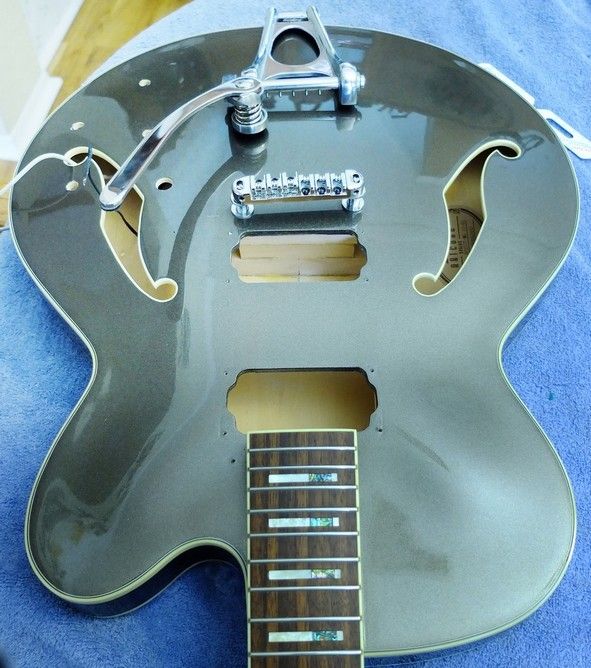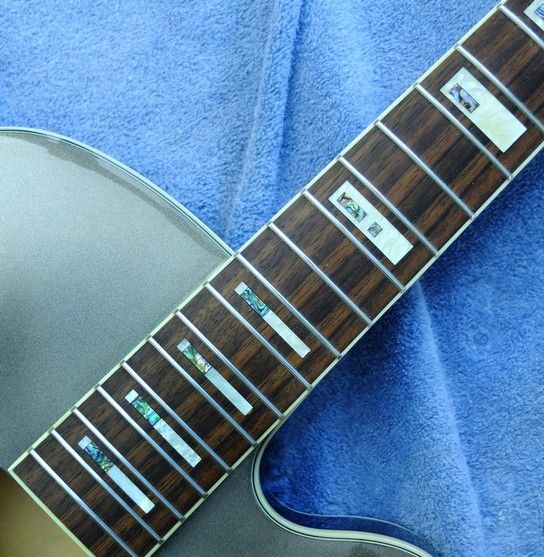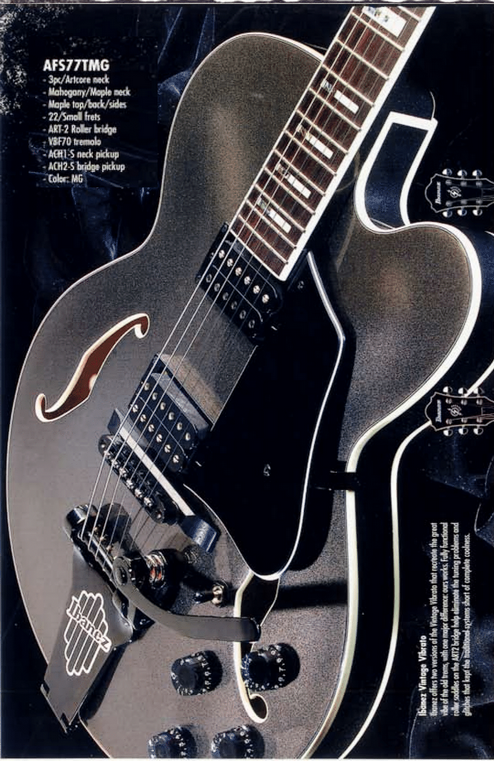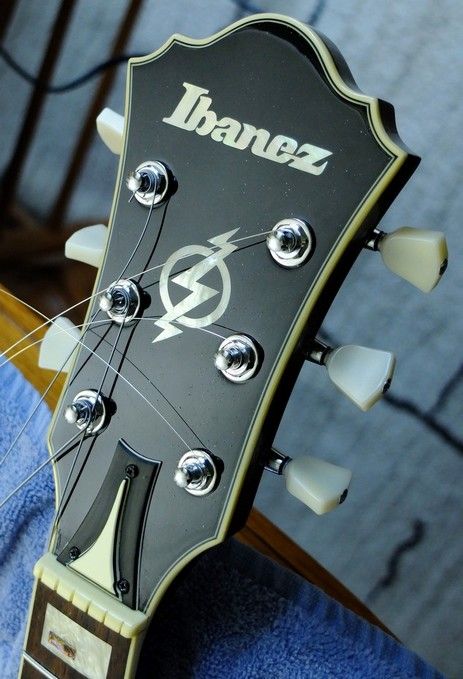 took a long time to find an suitable example for this project. this particular model was only available 2 yrs. All laminated Maple construction in the fully hollow 2 5/8" deep body, 3pc Maple/Mahog/Maple neck.
first step was to remove all hardware and electronics. i then glued Rock Maple blocks to form a center block making this a semi-acoustic. I got the fine folks at Action Sound in Hawkins Tx to install a chrome bushing mounted Wilkinson roller bridge instead of the stock floating bridge. I chose the minimalist B11 Bigsby in polished aluminum to replace the stock trem. I replaced the stock machine heads with a chrome Gotoh 18.1 with cream Keystone knobs and made a new deco truss rod cover. I lucked out and found a set of OEM cream ACH humbucker mounting rings- these are next to impossible to find- to replace the stock black ones- the cream matches the binding. I had a custom wiring harness made up with CTS 525k pots and rare Hopkins Paper in Oil caps- .015 uF for the neck and .022 uF for the bridge and located new cream speed knobs. I found a supplier who had a 3ply cream/blk/cream pickguard material that I was told will "turn" to match the rest of the trim and made a different shape pickguard.
and the best for last- a genuine Gibson 57 Classic at the neck and an underwound 57 Classic + at the bridge.
strung with Ernie Ball Cobalt Slinkies .009-.042.
you can have your 335's- the material and build quality of this guitar was top shelf- just check out the inlay markers. and that nice slim 2 5/8" body is super comfortable. and with that center block you can push the 57's all you want with zero feedback.
and playing her through my 65 re-issue Princeton Reverb with a 12" Cannabis Rex speaker is pure pleasure.