Discussion Starter
·
#1
·
Hey guys!
First off, I';d like to say that I didn't put this in the Comparison Shopping section because I've only been messing with the ATX100 for about 7 or 8 hours. It's plenty of time to get a good review, but not a full, in depth one if I had had it for, say, 6 months or so.
Today, I got to have an in-depth chance to play a B-52 ATX100 head. Now, as many of you may know, I OWN a B-52 AT100 Tri-Mode Rectifier head. So I brought my head to my friends house where he had the ATX, and I compared the two heads with the same guitar, cable, settings and cab!
---------------------------------------------------------------------------------------------------------------------------------------------------------------------------------------------------
Overall opinion
, the two are definitely related. Definitely different, but they had their similarities. The AT100 is much looser, darker and warmer. In my opinion, not a great option if you're tuning any lower than C. The ATX is a fair bit tighter with a bit more mids. The better head if you tune lower and like things to stay nice and tight. Also, as stated, it has a tad bit more gain. Oh, and once you turn the AT100 up, you get lost in the mix and can't hear yourself over other guitars. hen again, the other guitarists in the room were using a 6505+ and a Triple Rectifier. So that's probably why! It also got this unclear, super mid boosted honky tone that just would not EQ out. I couldn't get it to articulate to save my life. Once you pass recording level, the tone progressively gets worse. It's very unfortunate, considering I have to deal with that :lol:.
Oh! And they both use the same footswitch!
AT100: 7/10 if you're not tuning really low. 5/10 if you are.
ATX100: 8/10 overall. Much more versatile than the AT100.
For my playing styles (Technical Death Metal), the ATX was the obvious choice between the two. I, sadly, have the AT100.
Gear used.
B-52 AT100/ATX100 heads
Marshall 1960A Cab.
Ibanez RG7620. D-Sonic 7 bridge. Liquifire 7 neck. Drop A tuning.
Music styles played were from fender cleans to brutal death metal.
Monter cables used.
Clean channel
. Everything set to noon. Volume at recording level.
The ATX was definitely a bit cleaner. It was also a bit brighter but also fuller sounding. However, if you like darker, warmer cleans, then the AT100 is a better choice. hey both have awesome cleans. They are both capable of getting super twangy to super dark cleans. So don't let that stop you from getting one head or the other. The Reverb on the AT100 is a bit more present. It definitely stands out a bit more. Neither is "nicer" than the others. But the AT100's was a bit more noticable. I feel like it would also reverberate a little longer than on the ATX. In terms of clarity and staying clean at high volumes, they're definitely on par with eachother.
Gain One
. Everything set to noon. Volume at recording level.
Gain at 1/4. They were both at about the same amount. The AT was a bit darker and bassier. And noticably looser. But at such a low gain level, it doesn't really matter. The ATX is definitely better for lower tunings.
Gain at 1/2. Quite a bit gain jump on both heads from 1/4 to 1/2. Great crunch channel. For classic rock tones, the AT was better. It just had that bit of classic rock mud to it that sounded really sweet and dirty! The ATX was able to get it too, but I had to lower the treble and mids a tiny bit to get it there.
Gain at 3/4. Not much to tell really. It's a good metal channel. Not the best, but good. On both amps. It's a lowER gain channel. And it's really not even that much lower. It's hardly even a noticable difference. Again, on both heads. It's really just a slightly different voicing from having the gain/tone at the same level on the Gain 2 channel. This channel is a bit thicker but also a bit fizzier and honkier while the Gain 2 channel is much more even but with a bit less punch. On this channel, I wouldn't push the gain much further. It starts to get really muddy. It is less muddy on the ATX100.
Gain Two
. Everything set to noon. Volume at recording level.
Gain at 1/4. Makes for a slightly tighter gain channel than having the gain at 1/4 on the Gain One setting. he rest is really about the same, but with less mids. Not a lot less, but a little. It's a much more even tone.
Gain at 1/2. Starting to get heavy! This would definitely be your high crunch tone for you 80's rockers out there. Good clarity on both amps, but the ATX had it beat here too. Though it wasn't quite as fat sounding. So in this case, the ATX is better for your more articulate 80's stull. But if you're into punk or more dirty, sludgy rock, then the AT is the better choice.
Gain at 3/4. This is wheere the ATX shines over the AT. t's smoother, tighter, clearer, heavier and much more articulate. And it was really nice and chunky with lots of good saturation. The AT100, however, starts to get muddy here. You lose articulation and you start getting some flub. And it gets OVERLY thick. It was to the point where it was getting hard to hear yourself actually play over the pounding bass in your ears.
---------------------------------------------------------------------------------------------------------------------------------------------------------------------------------------------------
Well, that's really all I have for now. I'm really thinking of selling the AT100 and getting one of the ATX's. Don't get me wrong, for cleans to hard rock, the AT100 is my choice. But for what I'm playing, I need a tighter, heavier, more articulate head. And the AT just doesn't deliver much in that department.
And I said it earlier, but in case you missed it, the gain on the AT100 is pure garbage if you have to turn up too loud. If you're with a bassist and a drummer, then you should be fine. Same with micing a live show. In both of those areas, you are fine and will sound great! But if you're at practice and are competing with another guitarist, then you're SOL.
The ATX100 does not have that problem.
Hope you guys enjooy the info!
-Damien
Hell, have a couple pictures. Why not?
My AT100.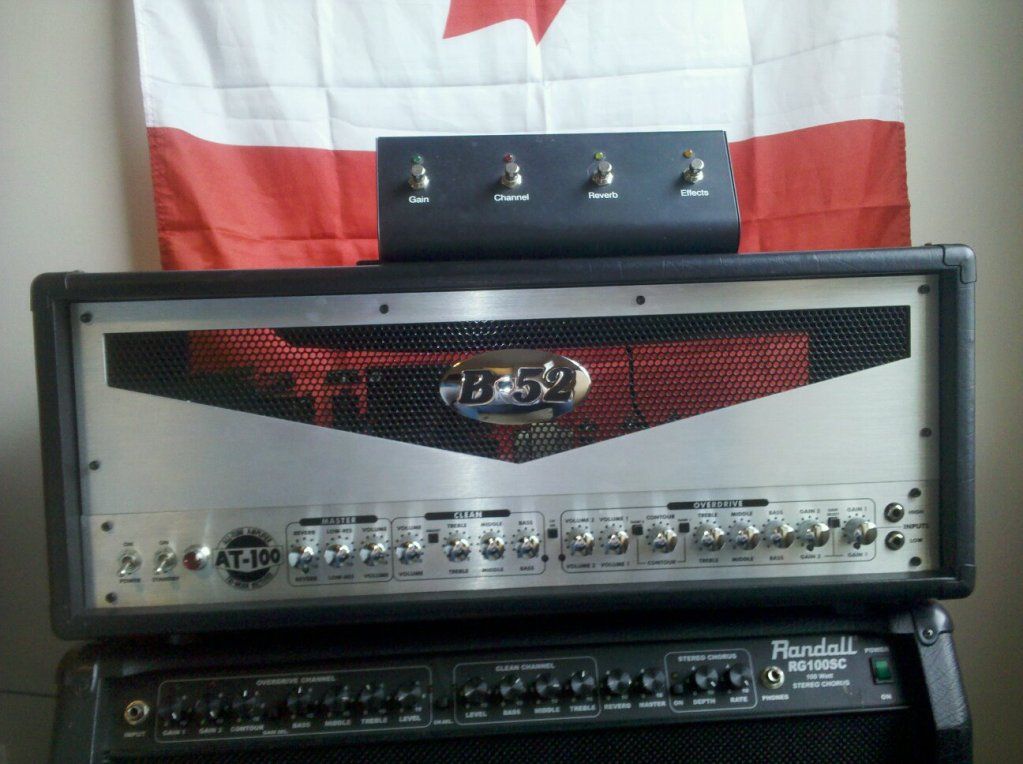 ATX100.
And these are not our heads. I just posted it because I just so happened to find a picture of an AT100 ontop of an ATX100.