Discussion Starter
·
#1
·
I picked up a guitar the other day at my local store. It was a Neal Moser custom tele, I ran my hands up and down the side of the neck and there was virtually no roughness from the frets. It was a dream to play. I played that guitar along with a Brian Moore USA Custom shop guitar, same result awesome fretwork on the guitar too.
I've found this to be lacking somewhat from Ibanez guitars, from the low end models right up to the highend jems and jcustoms. It's never really bothered me until now, I guess it's due to the fact that since I've acquired the instrument, it's a '99 model; I've become somewhat of a more discerning guitar head. I've read on Rich's site that he does some compulsory fret edge filing as part and parcel of his well known setup package.
Anyways here's a picture of my UV right now and the fretwork that came along with the guitar as well.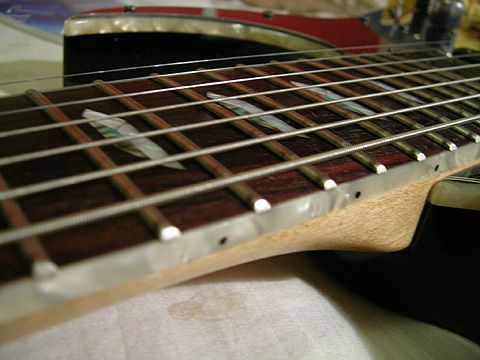 It might not be a very good picture, but I'm sure you get the idea. The fret ends are not exactly rounded and exceptionally comfortable to play with. Which really defeats the purpose of the neck binding IMHO.
I was browsing around and I found this picture from
http://www.kurosawagakki.com/ibanez6.html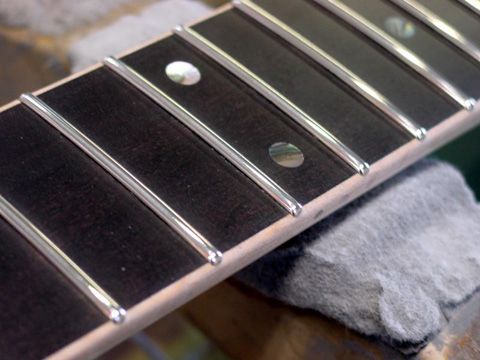 My question is, is it possible for me to do this modification on my own? If so what kind of tools would I need and what kind of steps should be taken in order for me to protect the wood surrounding the frets?
My father is a pretty good metal and wood worker, filing and sanding should be no problem for him. Heck he even offered to refret one of my jems for me. But of course being my number one guitar I got cold feet and sent it in to my usual guitar tech.
Any input would be most appreciated!
Thanks.
Christopher.