Discussion Starter
·
#1
·
Time to thin off some more of the herd. I picked these two up over the past year and have too many other guitars I spend most of my time with, and have more on the way.
As usual, I'll consider trades for other guitars (addiction is hell). I'd also consider a nice floor effects unit , and I'm still looking for an ipad as well.

1989 540 SCT6 BS (Brown Sunburst) w/ OHSC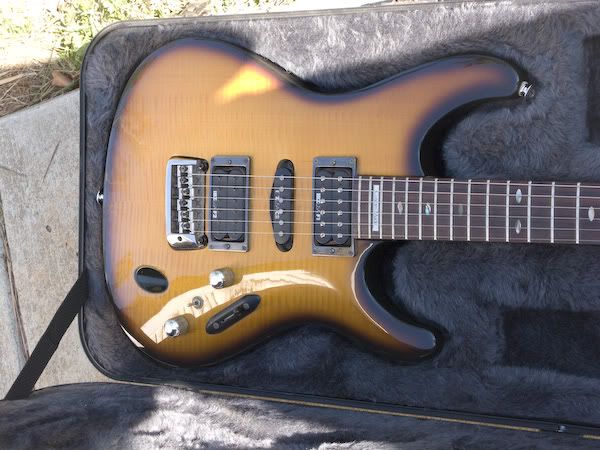 Full album of images here:
http://s820.photobucket.com/albums/zz127/DaylightDies75/Guitars4Sale/1989%20Ibanez%20540SCT6%20BS/
There don't seem to be too many of these CTs floating around out there in internet land in general, much less for sale, and this one's in great shape.
Flame Maple Top in brown sunburst (all of the others I can find on the net are cherry subburst). Catalogs say mahogany back but the back is flamed maple as well, and from the seam it looks like it could be a two piece maple body. A lot of these FMs I've seen have a similar appearance, so maybe they just put veneers on the back. I've never been able to tell.
Original 22 fret wizard neck with oval abalone inlays and "Custom Made" inlay at the 22nd fret
AANJ -Unless I'm mistaken, these were the very first Ibanez with the AANJ didn't pop up on others until at least a couple years later.
HQ Low Profile vintage style tremolo w/ Magnum Locking tuners
Chrome Hardware
I do not have the trem arm for this guitar, and I don't know what size it takes. I've been unable to find the size in any online research, and haven't had time to take it to guitar center to see if they have one that fits.
Pickups are All Original
Bridge: IBZ USA F1
Middle: IBZ USA C2
Neck: IBZ USA F2
Toggle Switch functions as coil tap to split bridge and neck humbuckers
All electronics function perfectly, with no noise, but volume pot is a tiny bit loose.
Condition: Overall I'd call it very good+. Body is in fantastic shape with no dings or chips. Minor swirling/pick scratches. No neck pocket cracks. The only significant cosmetic flaws are a 1in crack in the finish(not into wood) where someone tightened the pickup ring screw too tight at some point, and some minor finish blems around the input jack. They're not actual dings or dents, whatever it is is under the clear coat. Tremolo cover does have some rash, but it doesn't extend to the back of the guitar at all
For full disclosure, I'll also add that both this, and the 540S FM below also have some specks of dirt under the factory clear coat. Nothing major, or really even noticeable by anyone other than a gear head, and every one of these FMs I've ever seen has it. Not sure what the deal was on the S finishing line back in the day...
Neck has a few 3 to 4in stress cracks that do not affect playability/stability. Lots of fret life left. Looks like whomever owned before me didn't play it much.
Tremolo itself is in great condition, knobs have some wear.
Includes original "Ibanez Prestige Deluxe" hardshell case designed for S body shape. Cosmetically, the case has it share of scuffs to the exterior, and there is a little rust on some of the latches. No chips or cracks anywhere in the case though. The interior is perfect. Structurally speaking, it functions perfectly. All hinges and clasps are 100% functional.

$525 + actual shipping via paypal gift
Next up:

1990 540S FMCS (Cherry Sunburst) in HSS configuration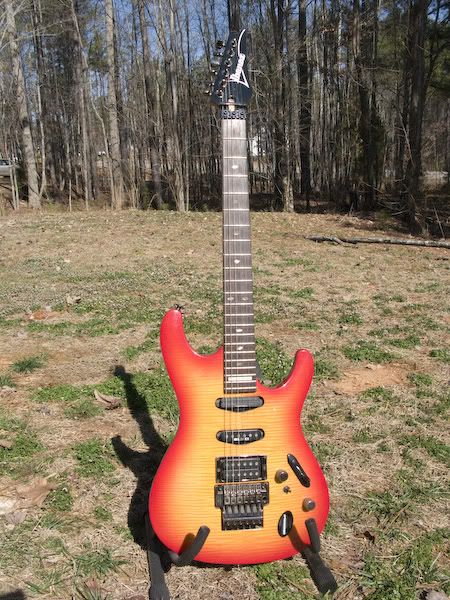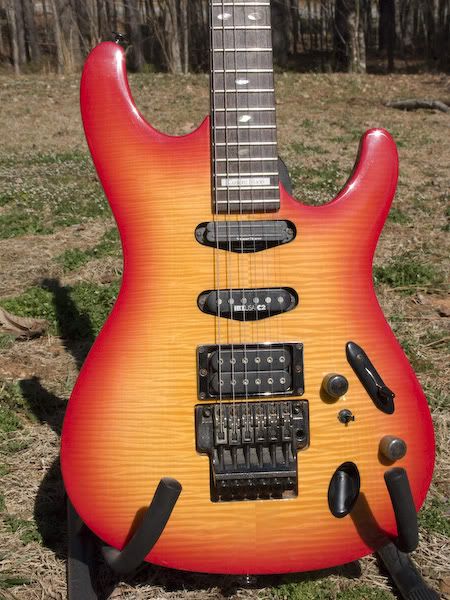 Full album of images here:
http://s820.photobucket.com/albums/zz127/DaylightDies75/Guitars4Sale/Ibanez 1990 540S FMCS/
This one is a little strange, given the year of manufacture. Going by catalogs this finish/configuration was never available as a production run. It has a Case Ave. neck plate and is basically a cross between a 540S and a 540SCT6. Not sure if it was a low number run, or maybe a one off custom configuration.
Flame Maple Top w/ Mahogany back (though again the back is flamed maple as well, so not sure if it's actually a two piece solid maple body or a veneer over mahogany)
Original Wizard 22 fret neck with oval abalone inlays and "Custom Made" inlay at the 22nd fret
Original Edge Tremolo w/ bar
Hardware and Tremolo have seen some wear. Moderate loss of the cosmo finish and some pitting. Trem functions perfectly and stays in tune as expected though.
Neck and Bridge pickups were either custom ordered with the guitar or upgraded later, middle is original and currently disconnected. Was disconnected when I got the guitar, and I haven't had time to rewire it.
Bridge: Unknown Dimarzio - Sounds great, good enough that I never cared to turn it over to see what pickup it is. May be a super distortion. Whatever it is, it handles gain well.
Middle: IBZ USA C2 original
Neck: Seymour Duncan hot rail of some sort. Again, sounds so good, that I didn't need to confirm what it was. Great cleans, and beautiful leads as well.
Toggle Switch to split the bridge humbucker

Condition:
Overall condition is very good. The guitar has had two finish chips (one on each horn) repaired at some point, and whoever did it, did a really good job. Without looking very closely, you'd be hard pressed to see them. No neck pocket cracks
No stress cracks near the neck joint, and plenty of life left in the frets. There is one indentation with some discoloration on the neck, has never affected the guitar plays for me. It is also missing the trussrod cover
$450 + actual shipping via paypal gift