Discussion Starter
·
#1
·
One more on the block: This one's not a collector, it's a player.
2003 Gibson Explorer Made in USA in black with mirror pickguard, upgraded Grover tuners

$750 + actual shipping via paypal gift, will entertain offers for nice Japanese or American guitars of similar value, preferably Ibanez or ESP.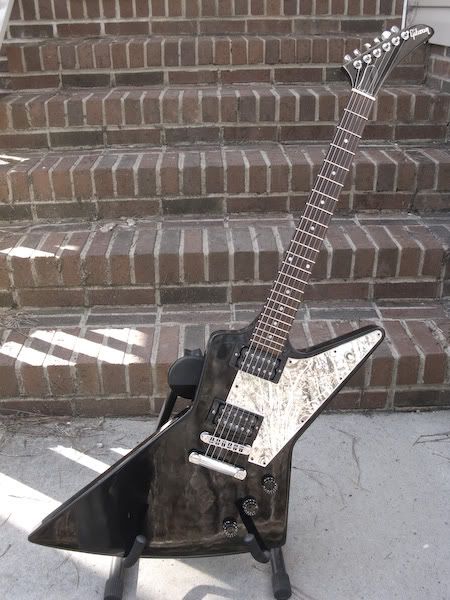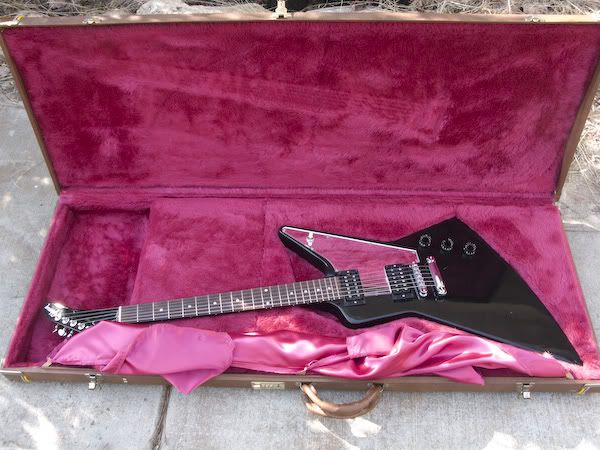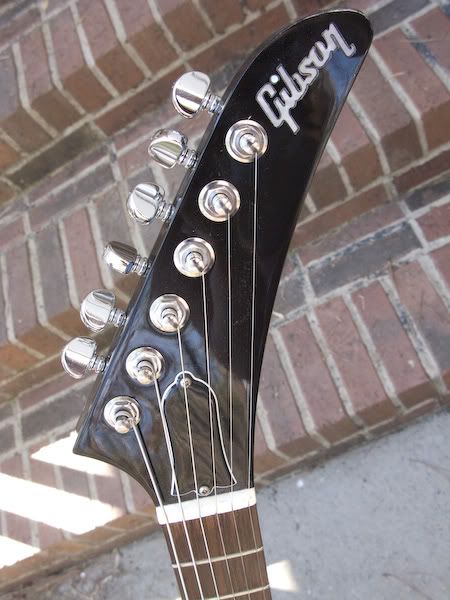 More images here:
http://s820.photobucket.com/albums/zz127/DaylightDies75/Guitars4Sale/2003 Gibson Explorer/
I used to be a huge fan of Explorers, but time, tastes, and playing styles change and I just can't/don't want to adjust to the shape and scale of this guitar. So it's off to someone who'll appreciate/play it more than I.
Solid mahogany body with set in mahogany neck
Classic hockey stick headstock with MOP Gibson inlay
Original pickups that sound awesome for most anything from cleans to uber chunky rythms to leads.
Non-original mirror pickguard added for some flare
Original pickguard is is included in the case, and in great shape.
Tuners upgraded to Grover tuners, stays in tune like nobody's business.
Overall condition
: I'd give it a conservative 7.5 out of ten: The guitar has been gigged, but by no means abused. No dings or dents through to the wood, no finish cracks anywhere.
Back of the guitar and bottom edge have some worming/scratching/buckle rash in the paint. Nothing remotely close to hitting the wood
Front of the guitar in very good condition with one 3cm ding from the tip of a guitar cable hitting it. Not really noticeable unless you're looking closely. Again, not through to the wood.
Some hazing in finish from use that should buff out
Neck is in very good to excellent shape, very little fret wear, frets nice and level, and the factory fret finishing was done surprisingly well.
In terms of sound and playability, if you like Gibsons, you should love it. The neck is straight as an arrow, the fret ends are nicely done, and the neck really does feel great. Sonically, it crushes. Super-chunkified palm muted riffage - check, great mellow cleans - check, lead tones from thrash metal to scorpions to blues - check.
Includes OHSC with all documentation. A couple of the case corners have some tears in the leather, but overall the case is in fantastic shape. All latches and combination lock work as they should.

Full disclosure:
What I will say about this guitar's finish (paintjob), is that Gibson's QC sucks. If it were an Ibanez, it would have been labeled b-stock based on (
what I see as
) flaws in the paint job. You can see the grain of the wood in ccertain spots, as well as the line where the two pieces of the body were joined through the paint. There are also some finish blems on the tip of the headstock where it looks like the paint bubbled and was allowed to dry.
I'm picky as heck, and could be (
probably am
) overstating these issues. The guitar's finish isn't
horrible (it's actually pretty glossy),
I just want to make sure I'm listing it accurately, and as I see it.
Maybe this is standard Gibson fare, and maybe I'm just too picky, but it tells me why so many people gripe about Gibson's price vs. quality. Luckily for me I got one where the flaws were cosmetic and not with the neck/construction like others I know.

So yeah: if you're looking for a great playing, great sounding, albeit in player's condition explorer, at a reasonable price, PM me.