Discussion Starter
·
#1
·
Hi Guys,
After two weeks with this guitar, i've come to the realisation that this guitar isn't for me. I'm more a jazz/ rock kind of guy.
The Agile Intrepid Pro 8 playes great and really has that Messugah sound. So if you are into metal, this is your thing. It really shreds with the EMG.
I am basically looking for a strat with a scalloped neck, so if i can trade it: great. For a real malmsteen strat offcource $ on my part goes with it.
I don't mind a few bumps. I am looking for a player.
The specs and a pic:
* Mahogany Body
*5 piece maple/walnut neck-thru body design with headstock matching body
*Maple Neck with 15" radius. Width 2 ¼" at the nut
*No inlays on the neck. Position markers on the side of the neck only
*Scale Length: 28.625" 24 Jumbo Frets
*EMG 808 Pickup with master volume. Cavity has been routed large enough to accommodate additional electronics
* Hip Shot Bridge
*String through body
*Die-cast Sealed Tuners with 18-1 ratio
*Graphite Nut
*Satin Polyurethane Finish
*String gauges: .009, .012, .015, .022, .030, .040, .054, .072
Offcourse, the guitar comes with a special case.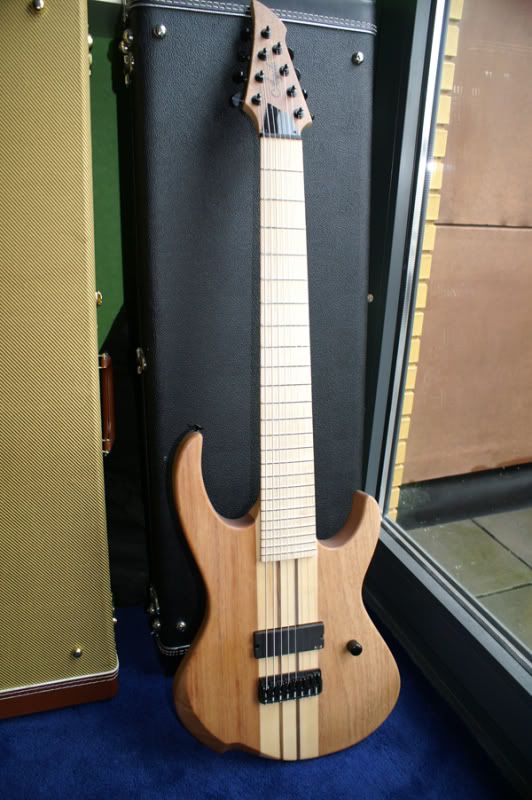 My evilbay account is 100% and i've bought some things from jemsite too.
If you are interested: PM or mail me.
Cheers, Sam