Discussion Starter
·
#1
·
I'm torn.
I'm ready to buy another guitar and I CAN'T make up my mind which one to get. I'm in a Classic Rock band and I'm the lead guitar player. I play through 2 Marshall heads and four 4-12" Marshall cabinets every gig.
I have to pick just one guitar- HELP!!!
777SK?
YJM Strat?
My 550DY is my current "#1", and I can't decide whether a Jem777SK with pyramids or a brand new shiney -updated Yngwie Strat with deeper scallops and machine screws would be a better choice.
Here's the logic:
Upsides:
SK-keeps the Ibanez 'vibe' going with loud colors. Looks cool on stage. locking trem. It's a Jem and they are probably the best hot-rod you can get.
YJM- adds another sonic texture to the band. Scallops great for 'tricks'.
It's a Strat- another GREAT guitar.(IMHO)
Downsides:
SK- more of the same sound. Older instrument that will need maintenance(frets, etc).
YJM- no locking trem. Lower pickup output means changing amp levels when changing guitars.
I love having a DY and SK together on stage.....here's my last lineup-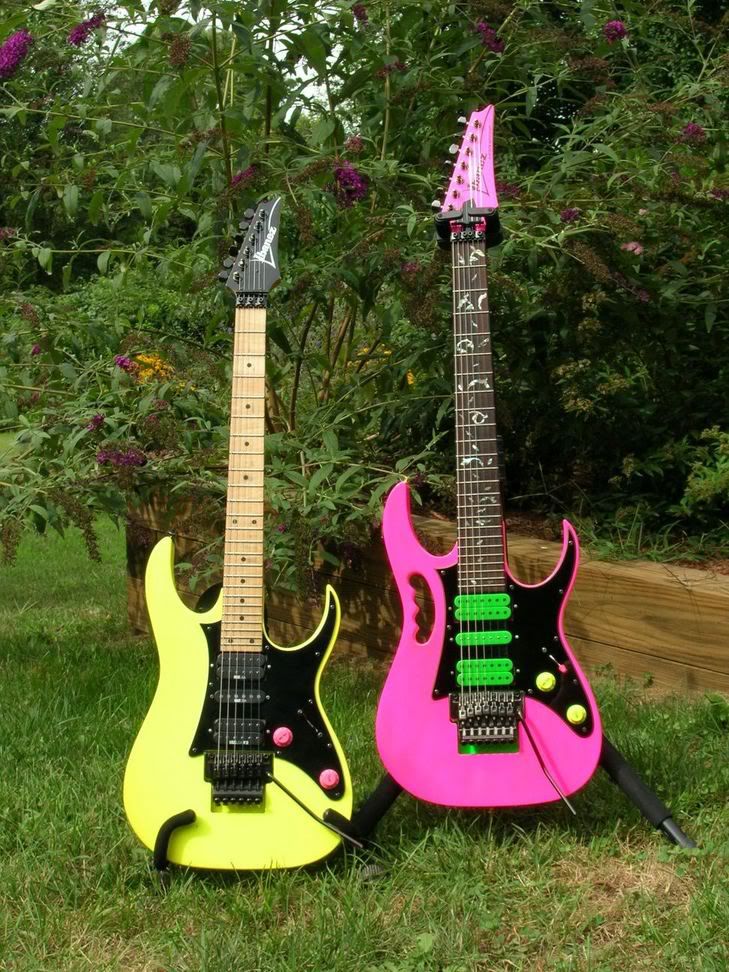 I also am blown away with the YJM and have been dying to get the new one.
I had a Sonic Blue one w/rosewood board and it was a GREAT guitar. I'm just concerned with no locking trem. I had this strat neck custom scalloped and played this guitar for years as my #1 -
So, what would you guys do?
(((*grabs popcorn and waits for responses*)))