Discussion Starter
·
#1
·
Hey this is Will Tubarao and today i'm very proud to show you guys my latest project finally completed after almost 5 years.

It all started in 2016 when i was navigating through some pics of Jim Donahue`s guitars on his facebook page.

Jim Donahue was the Master Builder at the Hoshino Custom Shop in PA, since year 1984. He worked on the JEM project with Steve Vai since the beginning and have developed a lot of iconic Ibanez guitars models from 1984 to 2001.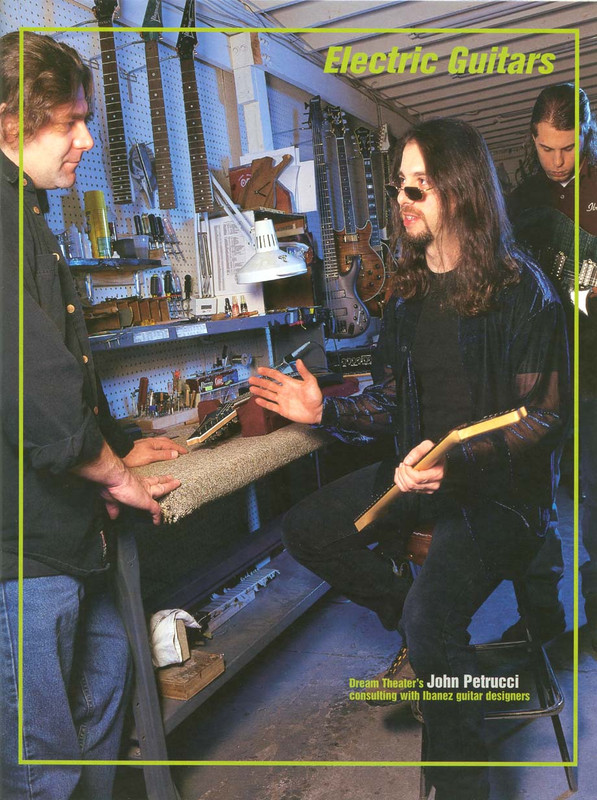 Jim Donahue with John Petrucci at Ibanez Catalog 1997.
Jim was also responsible and developed the Y2K-DNA JEM concept, involving the "Steve's Blood inside the Swirl" idea, with the swirl-god-guru Darren Johansen from ATD.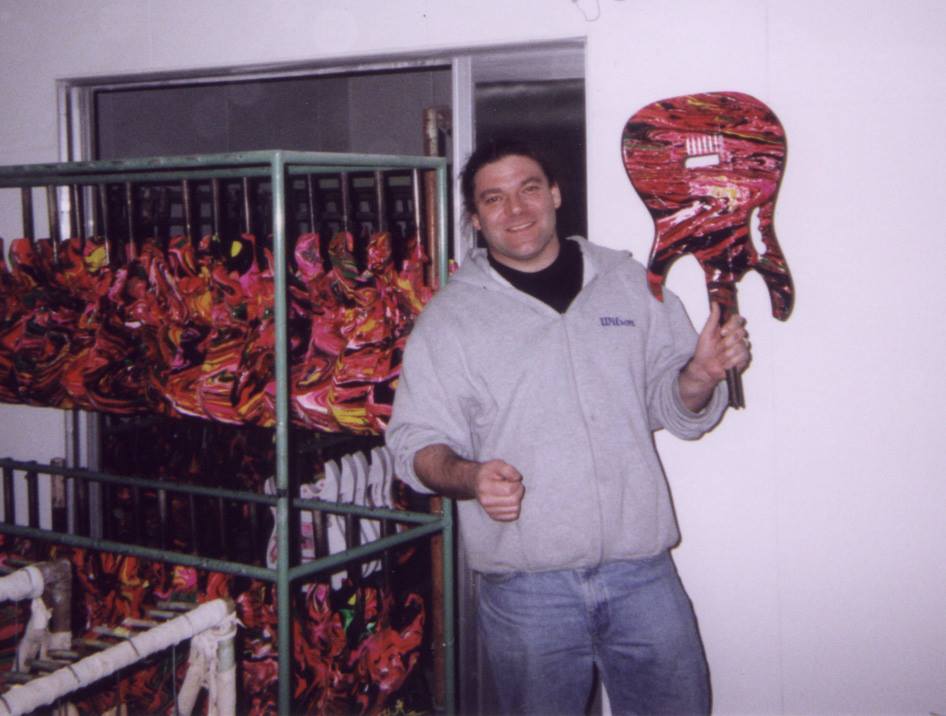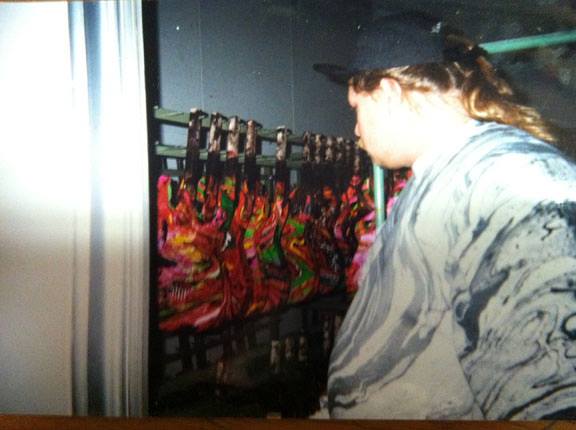 I`ve found pics of a swirled body on Jim`s facebook and was blown away, so I asked more info. He said he had that body around since year 2000 and it was a sample prototype body that was swirled by Darren alongside more 3 or 4 Jem bodies. They we`re used for demonstration purposes in Japan with Hoshino`s staff and Steve Vai.
They choose to put into production only the JEM 6 string version, then Jim`s had this UV-7 string body laying around in his shop since year 2000.
So I asked more info and pics. Jim sent me those: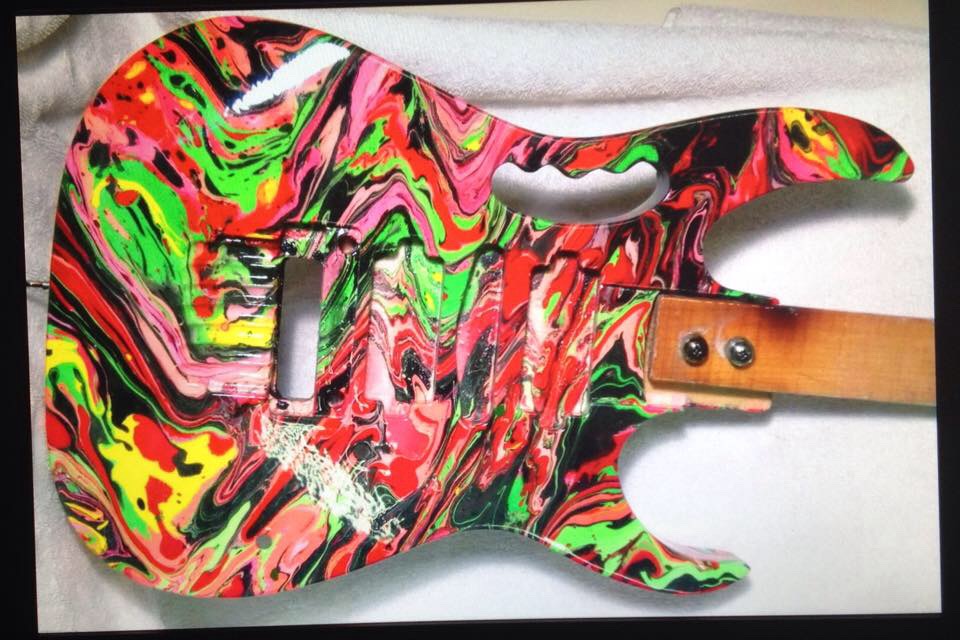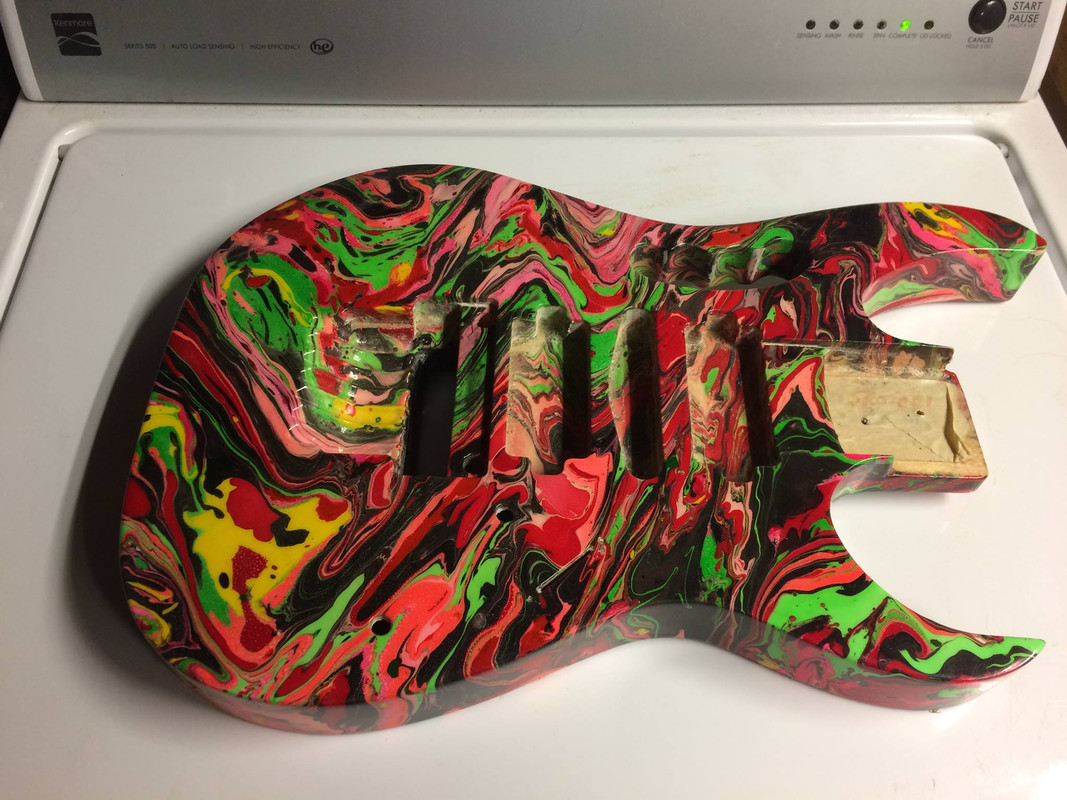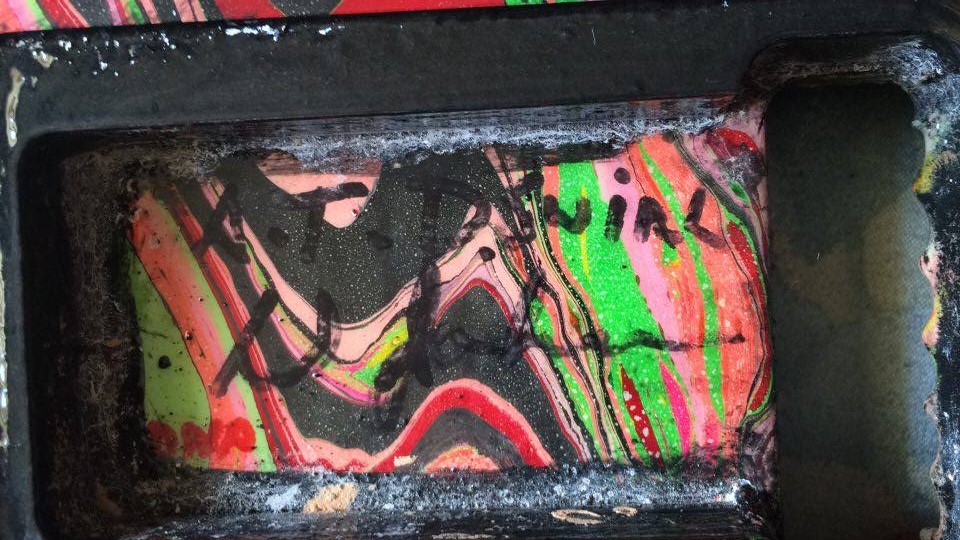 It was autographed on the cavity: A.T.D. Swirl - Darren Johansen.
So, long story short, i`ve BEGGED and IMPLORED Jim to sell this body to me! And he did!
He was sooooo kind and gentle, he waited a long time for me to send payment, and as a great guitar master he is, offered me a nice free body polishing.
I`ve asked him to put an autograph on the cavity too and when the body arrived I was in shock! <3 Owwwwwww boy!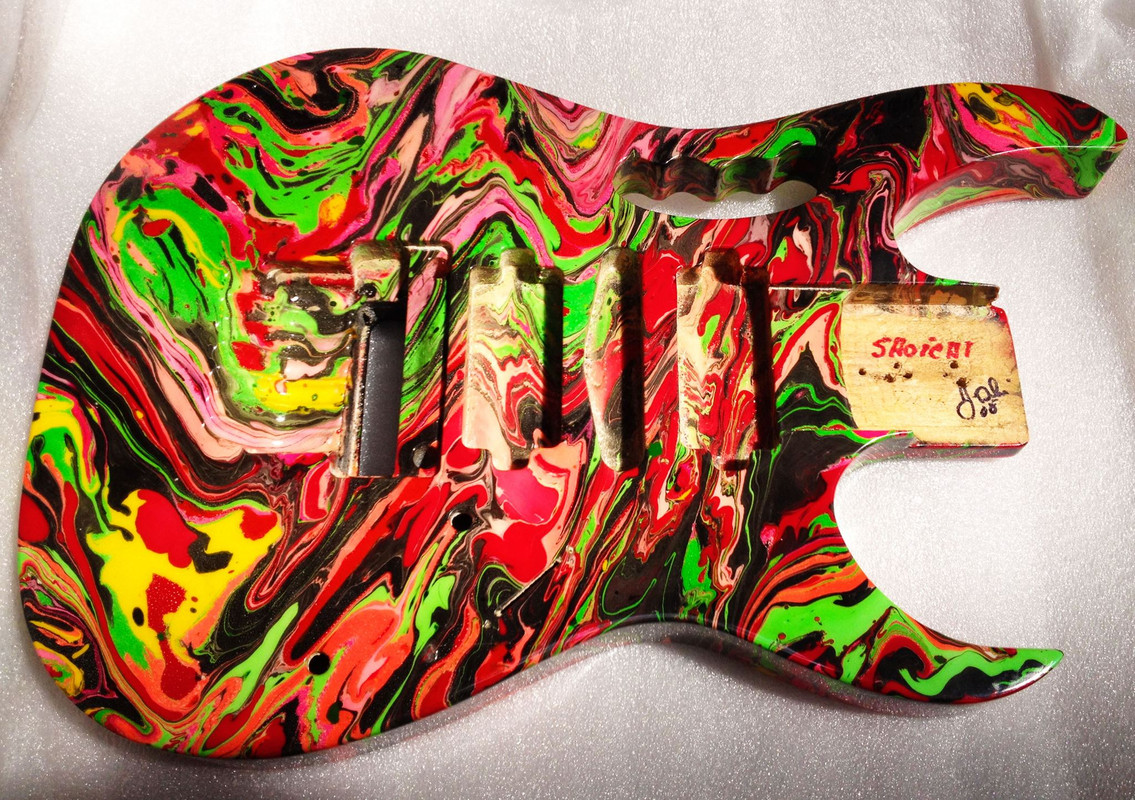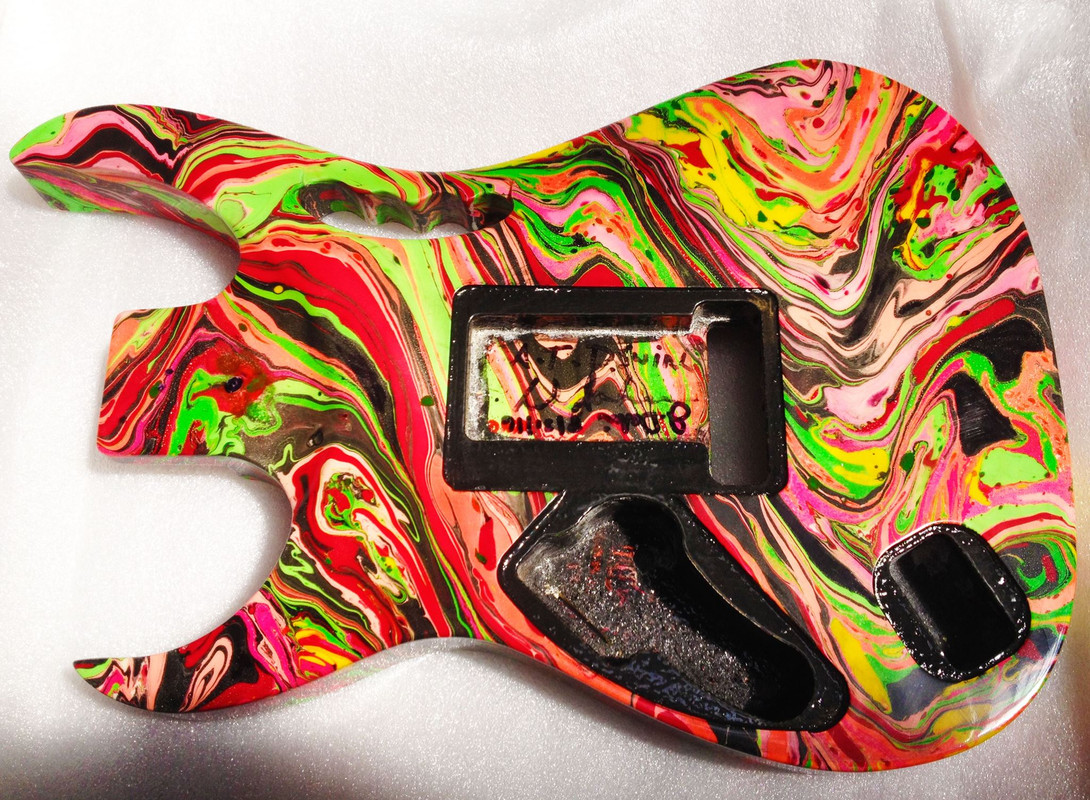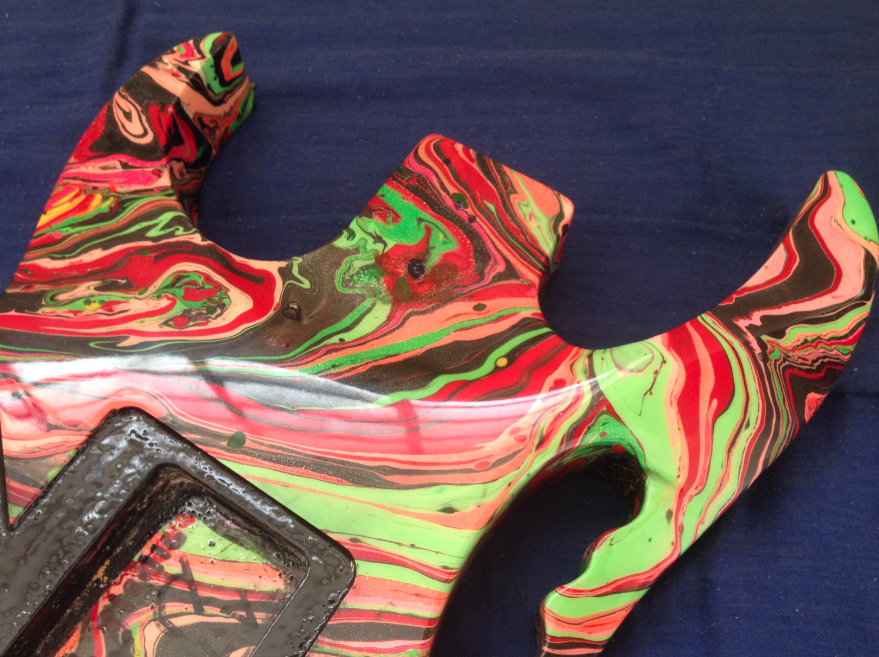 The body had never been drilled or received a neck plate and neck yet.
Now I was on the market looking for the right parts, hardware, pickups and neck! Mission impossible living in the 3rd world, tho.
Grabbed a Lo Pro Edge Cosmo Black (from my friend Dadá Fernandes) and after a deep research on the DiMarzio website and specs, bough a pair of green Illuminators from Alan Lee of OOTS (Out Of This Swirled - Pickup Magnet/UK). One year later another Brazilian friend of mine helped me to buy the Blaze Single pickup in Vegas, and sent me the pickup. The Brazilian DiMarzio importer/distributor only have BLACK pickups! Dumb.
PS.: keep in mind, living in Brazil means you have to pay 80%-100% of import taxes and fees to our corrupt govnmt. ALL gear imported here is super, ultra, overpriced. :'(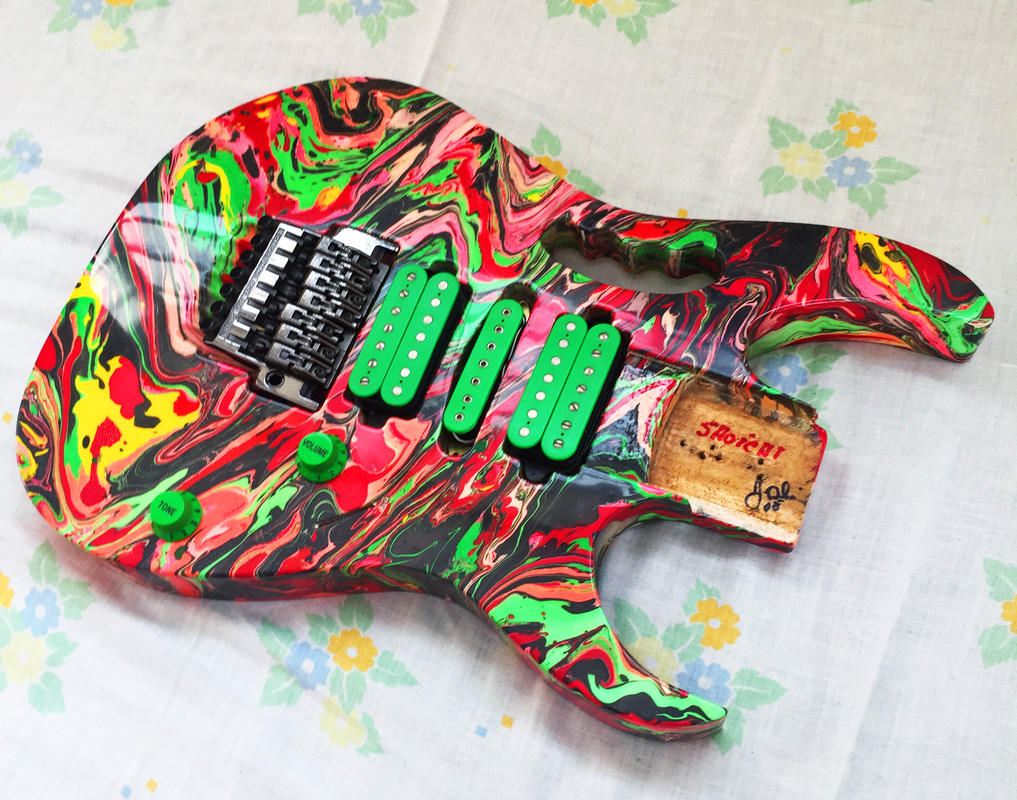 Okay, so I was looking everywhere for a original UV-MC neck with colored disappearing pyramid inlays, with no success. Lurking around Ebay USA/Europe, Reverb, Rich Harris, and others. I considered making a custom neck with Christopher Woods.
After 3-4 years looking for a original UV neck, I just couldn`t find it anywhere, so I decided to order a custom neck from my trustworthy local guy, Luthier Adão Ribeiro (ARS Guitars). He have build an amazing 6 string and a 7 string for me and worked on several guitar swirling projects with me during 25 years of good friendship.
When I went to the ARS Guitars shop, and asked for a custom UV neck, my friend surprised me with something unique and special: he had a very nice UV-PWH 1991 original neck, no cracks, with white pyramids. OMFG!!! :hbang::hbang::hbang::hbang: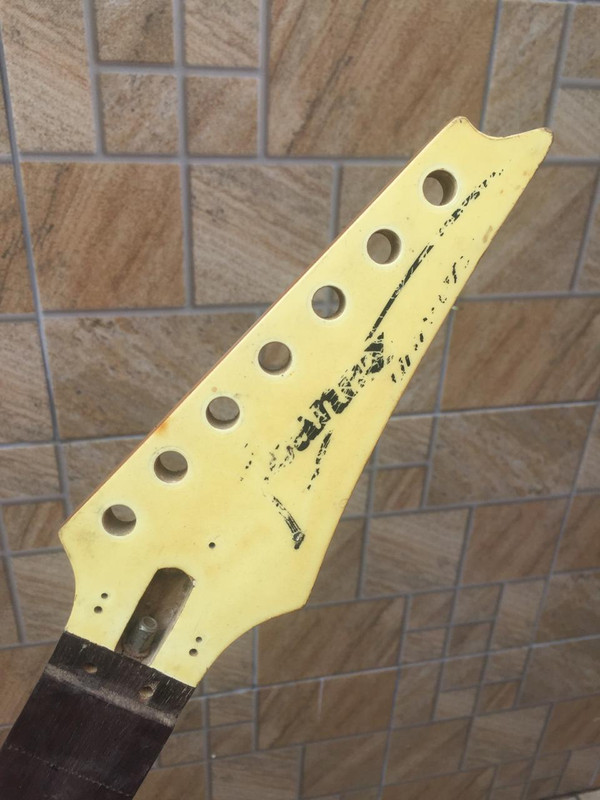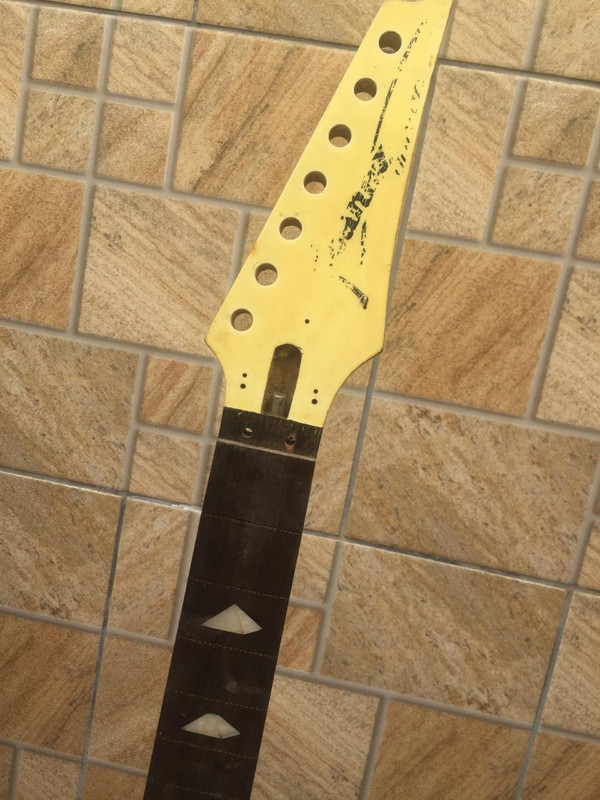 It was like a dream come true! Several years looking for a neck, and my homie had a nice one, 10 minutes away from my home! Thank you Adão Ribeiro!
So, the next challenge was finding the colored inlays, i`ve contacted "Inlay & Companhia" and ordered this: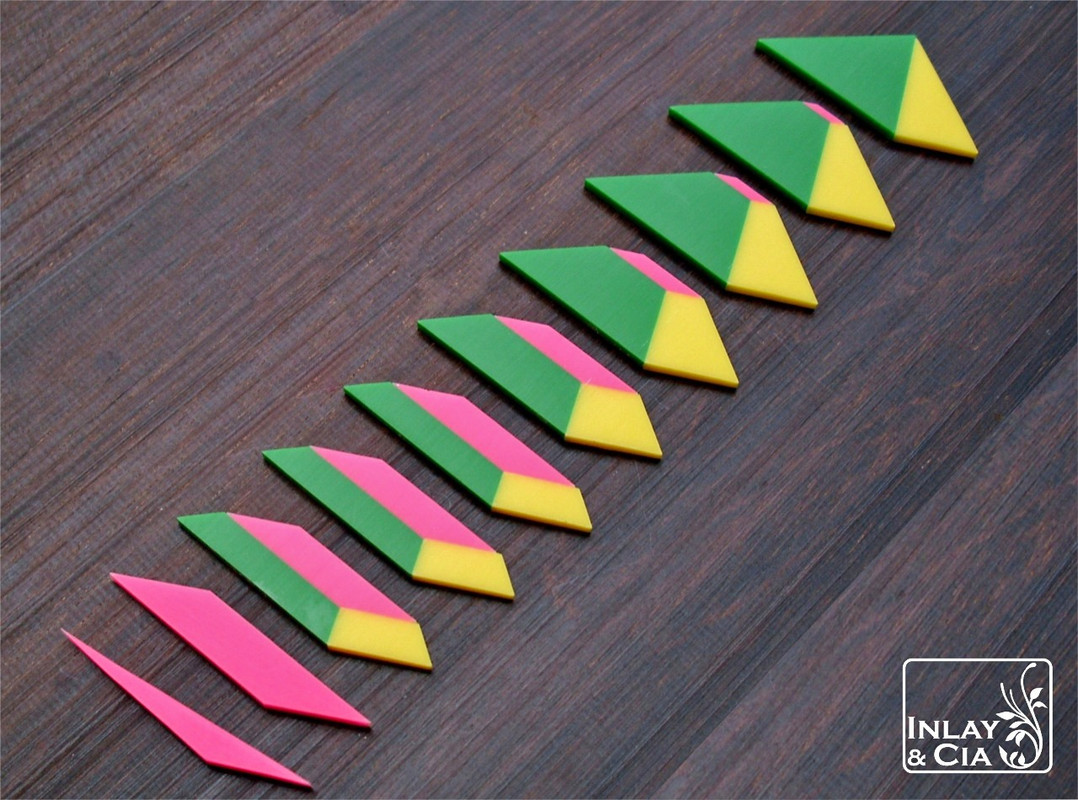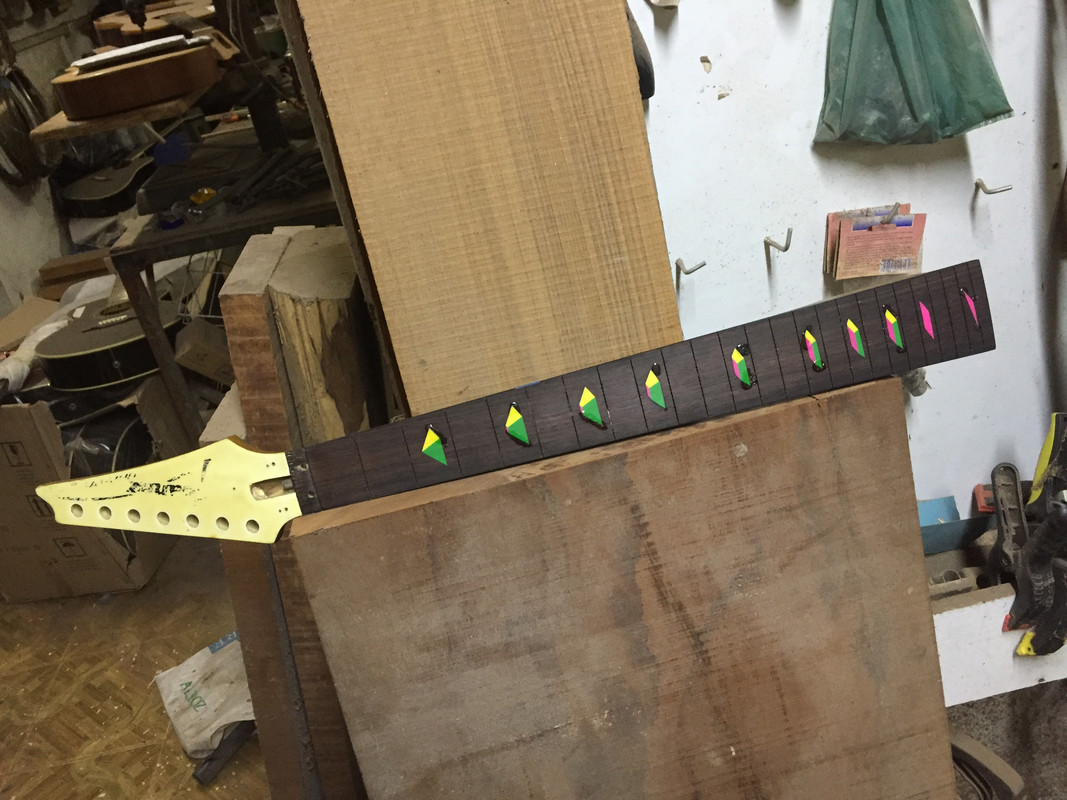 New colored disappearing pyramid inlays installation.
The rosewood fretboard was maintained original with no issues.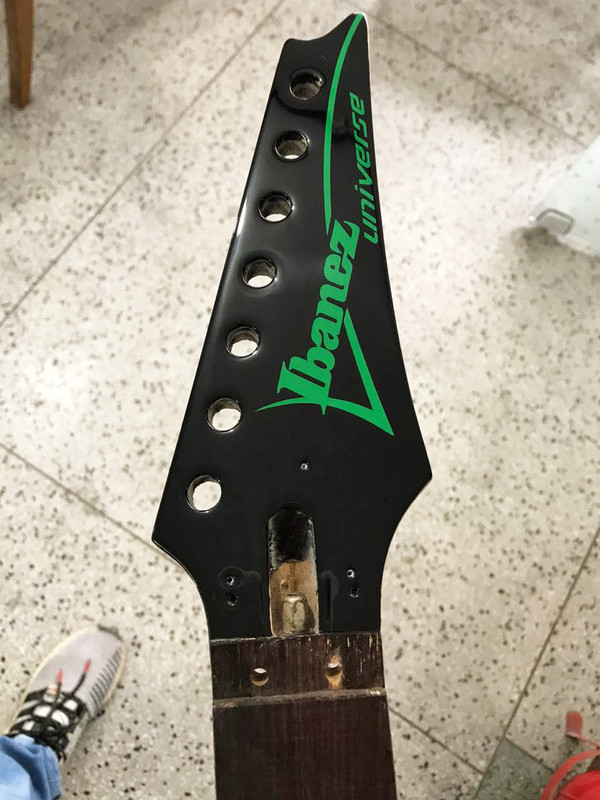 New headstock logo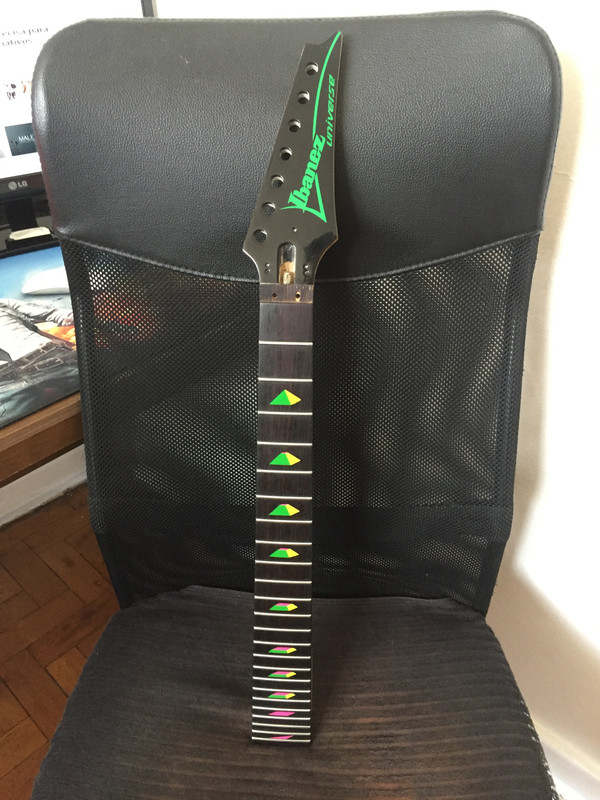 New installed stainless steel frets.
The neck was really dirty and dark, with decades of use/abuse, so I went to Ben Eller Oil n`Wax Tutorial on youtube. Did a very nice cleaning, sanded the neck to bare wood, removing all dirty and sweat, making it shine like new!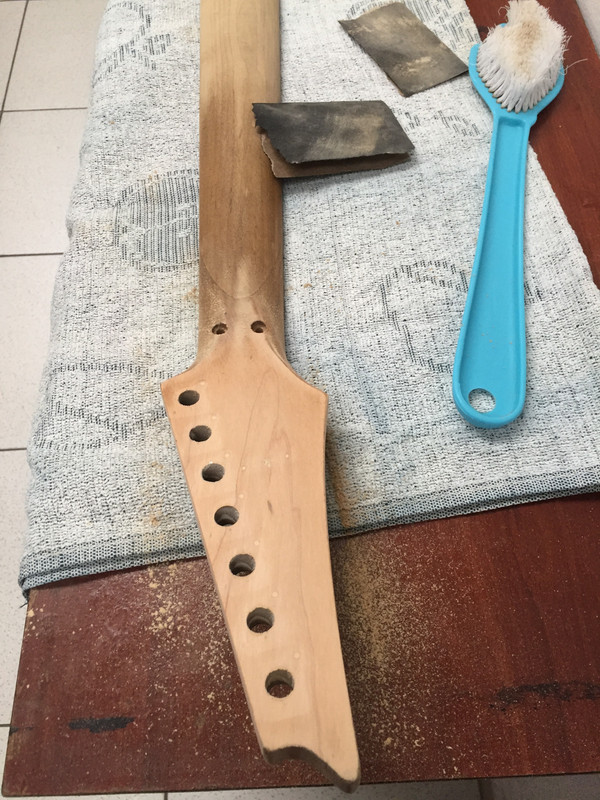 Oiled the neck following Benn Eller`s instructions and the result was AMAZING!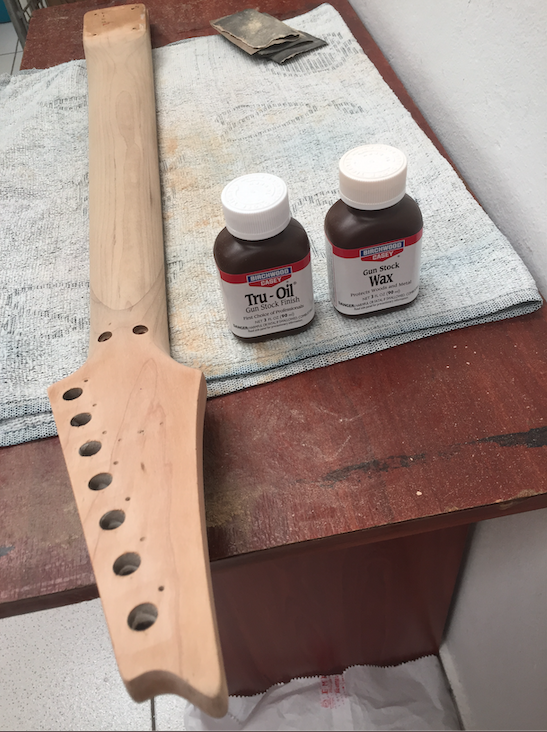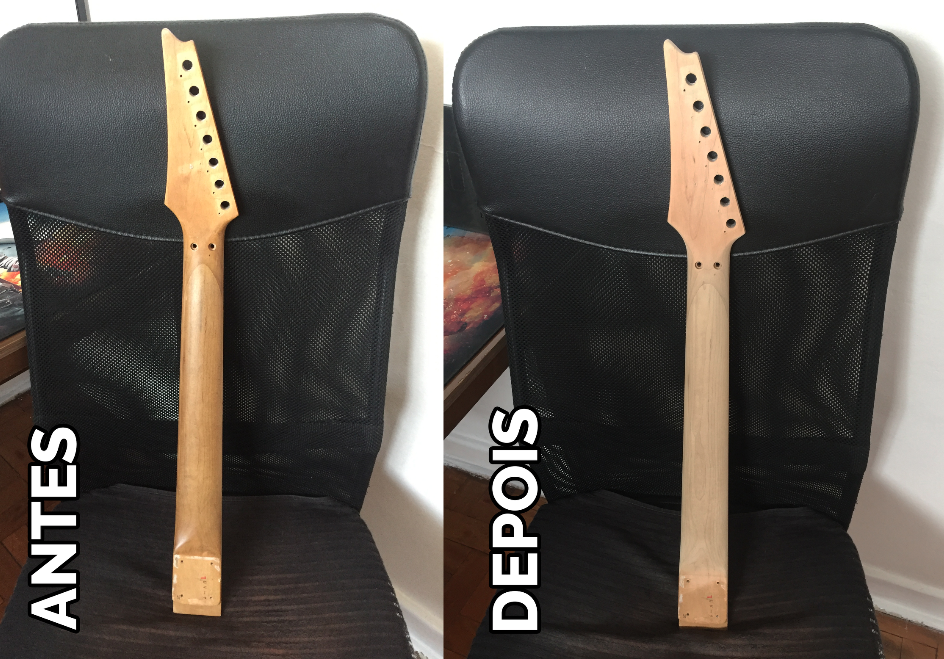 After/Before
More info and pics to follow on the next post: