I sent back my JS1200 to have a warped neck replaced. The guitar was in perfect condition (other than the neck) and was covered under warranty. I get it back today and there are major dents and scratches (3 total) in the paintwork!!
Two of the three are right under the neck at the joint. One is a huge shallow dent which looks like a blunt tool would make... as if they used a screwdriver or something as leverage to pry off the neck. The other is a brand new stress crack right on the corner of the neck pocket (there were none before I sent it).
The third is a clearcoat gash about a half inch long right on top edge of the guitar (not on the face), about where your forearm would rest.
Granted, none of these scrtaches/dents are even visible when playing the guitar, but I am still very upset about it. That thing was in
mint
condition before I sent it off!
So, after calling Hoshino and discussing my options I am entertaining the thought of sending my guitar to an authorized repair shop (location can be anywhere) to get the paintwork repaired. We don't have one here in Memphis, and I asked if I could send to a local luthier but it has to be an authorized repair shop.
I'd much rather do this than send it back to those people. Anyone know of a good shop that is authorized to do Ibanez repair? I want Ibanez to pay for it, but I don't want the idiots that did this to get near my guitar again. Besides, they'll probably just replace the body anyway, and I like the sound of this guitar... so I'd much rather keep it.
Thanks for any info!
Ryan
EDIT: Here are some photos..
Neck pocket damage, complete with stress crack.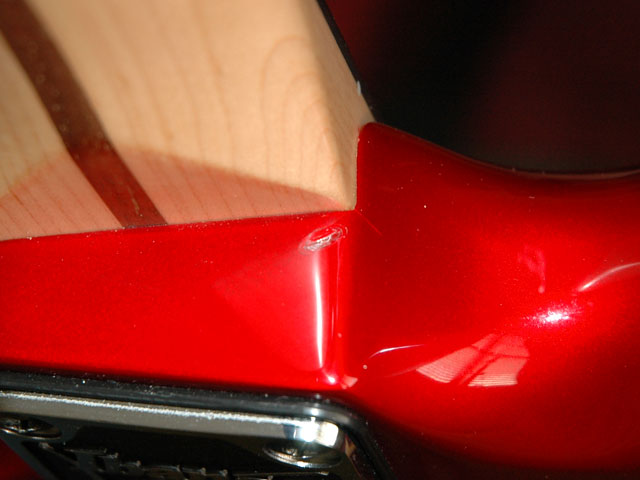 And the top side damage. Sick, isn't it?