I've been searching for one of these for 15 yrs lol. Found one and been talking to the guy. Check the listing and pics he sent me after I requested them.
things that don't seem legit:
1) the swirl looks cool yet it's not very Ibanez-like meaning it seems overly exaggerated. The swirls just seem a bit sloppy and overly done!
2) zoom in on bridge rear edge the gloss finish appears to have light pitting? Amateurish job.
3) bass side of neck pup route looks mashed up!
4) HAS NO serial NUMBER!!! Guy says in listing that he "peeled it of back of headstock" but I don't think they ever put them there and his listing never showed the neck plate I had to request that pic and of course the plate IS WRONG!! He said somebody else stated some plates were blank but I believe that was only for the UV77RE not the original plus the REs had the number on the fretboard and this doesn't have none of them details.
5) the edge of inlay looks like a sticker or just sloppy work?
6) HE TOLD ME THE RESERVE after I asked (likely trying to entice me and make a quick buck)
Anyway, I'm calling B*
s**
on this one, check it out. Let me know what you all think.
Bill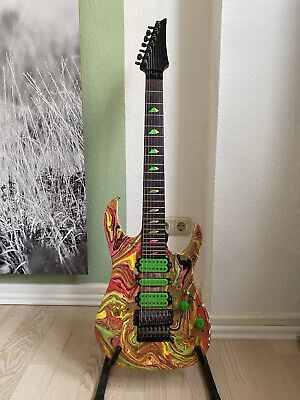 Ibanez UV77MC Steve Vai Universe Multi Color Swirl, Japan Version. 1995 and 1997. Am 20.07.22 hat der Verkäufer die folgenden Angaben hinzugefügt It might be a bit more or less. I bought it off a guy who had given up on playing.