Discussion Starter
·
#1
·
Thought I'd share a story about a unique Ibanez....
Being based in L.A., I have the good fortune of taking my guitars to John Carruthers.
John is quite a prestigious luthier in the industry. His
résumé
is quite extensive -- suffice to say he's worked on guitars for just about everyone. It's easy to see why, because he's a nice guy and he does grade-A quality work.
During my visits to his shop, I've noted he has all sorts of things framed in his office, lots of autographs from clients and pictures of guitars he's built. During one visit, I looked on is wall and saw a double-V guitar and a picture of Vinnie Vincent. I went over to the frame and took a closer look and it turned out it was a photo of Vinnie's double-V Ibanez model and a cut-out of the Dean Markley advertisement with Vinnie and the guitar that ran in guitar publications circa 1988-1989.
I asked John about it and it turns out he built this particular double-V model for Ibanez/Vinnie. (Some might recall that Vinnie had Jackson double-V models, made by Grover Jackson, and a Carvin double-V as well.)
Here is a photo I snapped with my iPhone: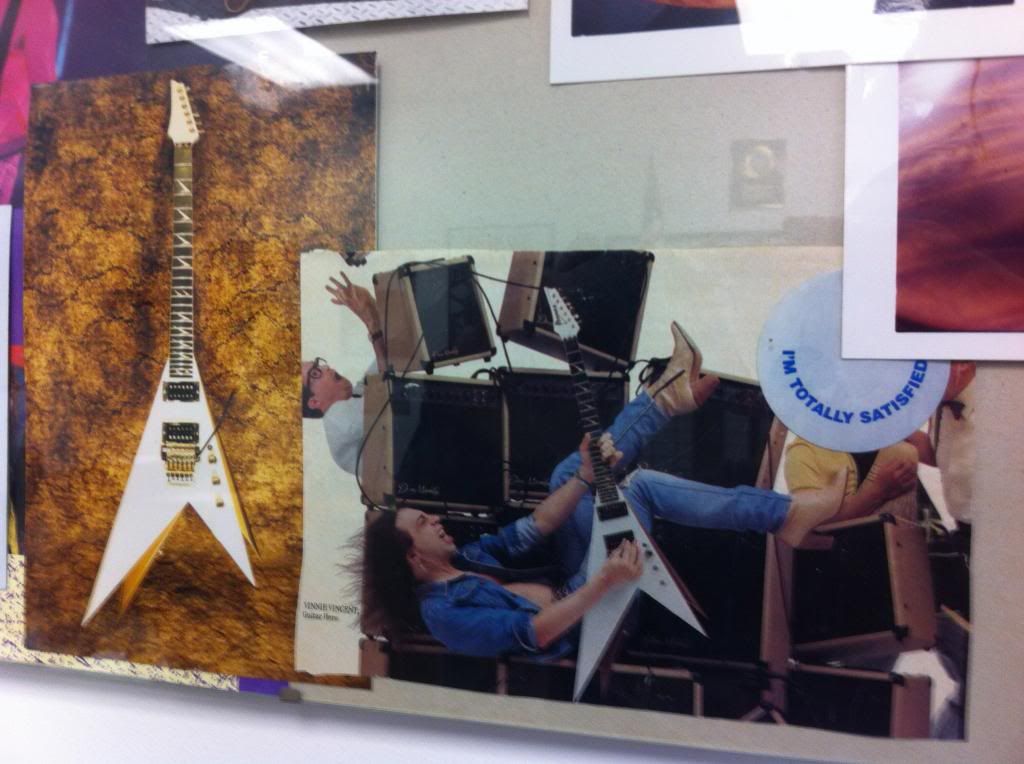 The ad reads "Vinnie Vincent Guitar Hero"
The Ibanez made a very brief appearance in the Vinnie Vincent Invasion "Love Kills" video, during the "Freddy pick scrape" scene:
John said he never met Vinnie as it was a job contracted through Ibanez. It's hard to see in the first photo, but John did not put the decal on -- that was later put on by Ibanez. And this particular guitar has V inlays, which I've only seen on one other Ibanez guitar (see Steve DeMarchi/Alias
thread
.)
I'm a big fan of KISS and Vinnie Vincent, in particular, so I was caught off-guard by this guitar and the fact that John constructed it. I guess it shouldn't be surprising given John's clientele, but it was cool chatting with him about it. He says he thinks he might have the blueprints for the guitar, but that they'd likely be hard to find.
This particular guitar seems to be lost in the grand scheme of Ibanez's history. Not a big deal but interesting all the same... Wondering if there is any additional information out there about this Ibanez?
A recent related aside, about a month or so ago, Vinnie put up several personal items for auction, and he was asking quite a hefty price for the Ibanez (auction site has since been taken down):