Discussion Starter
•
#1
•
Thanks to the taxman, it is time to do what I said I'd never do...sell my VHT halfstack. This is a new Sig:X head and Fatbottom 4x12 cab (with the P50e speakers). Both have never left my home and are in perfect condition. I'm assuming that if you are reading this then you know what it is and that this is a smoking deal (this package is over $3000 new). If you are aren't familiar with the head/cab then here are a few specs...
- Output power: KT88 Power Tubes 100 Watts RMS max. 40 Watts RMS, low power mode.
- 3 independent channels with separate tone controls.
- 3-Position PRE EQ VOICING switch for each channel allowing custom tailored tone shaping.
- Exclusive VHT GAIN I/GAIN II Voicing and Overdrive configurations with channel assignable Footswitchable or manual (front panel) gain boost.
- MORE/LESS MODE (Gain Stacking) for each High-Gain channel to select 3 or 4 Tube Gain stages on selected channel (channel assignable as on CL/UL models).
- POWER SHIFT feature, a single mini toggle switch on each channel enables channel assignable Tube/SS Rectifier and 100W/40W output power selection (operates like ENHANCE MODE on Fifty/CL/ST).
- Patented DYNAMIC SENSING feature (introduced in the GP3 pre) tracks string attack/decay to optimize sustain and note detail.
- Two dedicated sets of Depth and Presence controls, one set for the Clean channel and one set for the LEAD and RHYTHM channels. Each set of Depth and Presence controls are voiced for their specific channels.
- Footswitchable True-Bypass, Series/Parallel Effects Loop with level controls. Suitable for using the loop as a volume boost.
The footswitch is included, along with a $100 custom cable from RJM Music (makers of the Amp Gizmo and RG-16) to control the amp via MIDI switching. I am also selling the RG-16 separately if the buyer wants the complete package I'll work something out. Please no trades and I am firm on the price. Sorry I'm not a great photographer, but this is a great rig...heck what other amp can you have 128 different settings before you even touch a knob? Don't be fooled by the versatility of the amp though, this is the closest I've ever had to perfection of a classic single channel amp in this type of formfactor. Each channel cleans up perfectly with the volume knob on your guitar, or roll it to ten and you'll feel the earth move.
Anyway I can accept PayPal but would prefer a local sale and/or will meet anyone within a reasonable driving distance from Chicago.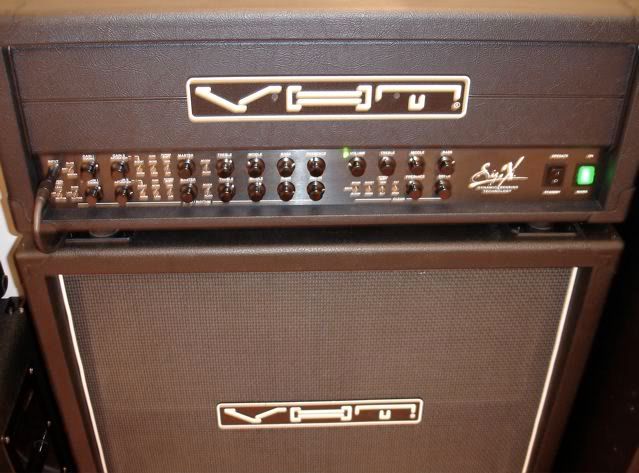 All that being said $1900 takes it, or I could always ask Uncle Sam for an extension if someone out there wants to trade a Fractal Axe-FX Ultra.