Discussion Starter
·
#1
·
After looking all over the web to find any information on the OTAX VLX91 switch I found it. Thank god! I knew I shouldn't have looked any further then Jemsite, seems like the people here know everything I could ever want to know.
I found a thread about someone that was trying to make sense of this switch and people gave him some great advice. Instead of high jacking his post I figured I'd start my own. I have this Otax switch, it looks really complicated but I'm willing to give it a shot. A lot of my friends are trying to get me to go to a professional to get it done, but my motto is, "give a man a fish and he eats for a day, teach man how to fish and he will eat for a lifetime."
Here is my deal... I own an Ibanez S series with a 5-way pickup selector, one volume knob, one tone knob, in a H/S/H setup. The Pick-ups I have are a PAF Pro in the neck, and a Tone Zone in the Bridge.
Currently it is wired (was done by a professional) to work like a normal 5-way.
1 position - Bridge Pickup w/ both Coils
2 position - Bridge w/ one Coil and Single Coil
3 position - Only Single Coil
4 position - Neck w/ one Coil and Single Coil
5 position - Neck Pickup w/ both Coils
I use all the settings often except the 2 position, the Bridge/Single Coil. Since I have no use for this I wanted to use that position to do something else.
What I had in mind was a "dead" position, when the selector was set for 2, no sounds comes out what-so-ever. This could be useful for a quick cut off for volume, aswell as being used for a stuttering type effect by flicking the switch in and out the second position.
The 5-way switch looks very complicated and I have never seen a diagram for this except for one (posted here) at:
http://www.his.com/~sha3u/gear/vlx91.jpg
I took some detailed pictures of how the switch is currently wired, I think it should be pretty clear where all the connections are going. The Black wires are the humbuckers and the grey wire is the single coil. The position of the switch in the pictures is currently set for all bridge, this may be position one or five... I am not too certain.
Here they are...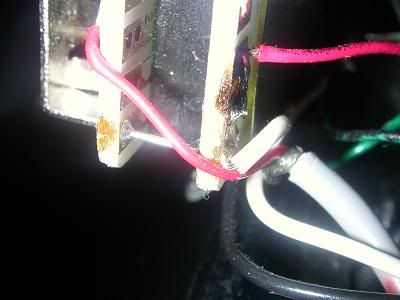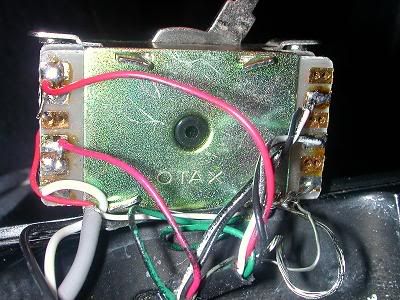 Hopefully that is clear enough for you guys to get the idea of how its wired. If you need any more information or pictures let me know.
I am hoping someone can just point out to me which connections I need to unsolder with out getting too technical. Maybe just edit the picture in Paint with a line through which wire needs to be cut. I don't have much experience with pickups, I have wired some but not nearly as complicated as this crazy ass switch. I'm pretty good with the soldering Iron so I think I can do it myself. And hey, even if I do **** up and break the switch... it wouldn't be so bad to have to go out and buy a new quailty one.
Thanks a bunch guys... I know I can count on you.